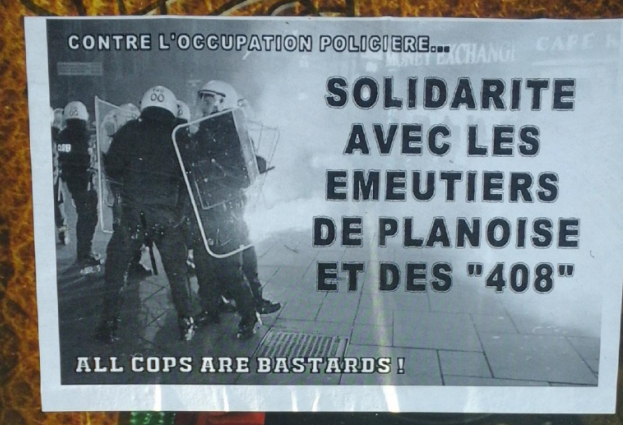 Communique published May 25th 2015:
During May 2015, mayhem broke out in the streets of Besançon. Flames lit up the nights of several neighbourhoods, which targeted and destroyed company vehicles, schools, various "social" state institutions…
The police occupation in neighbourhoods for several months, with all that it entails, sparks a determined resistance. Throwing molotov cocktails arrived – unfortunately nearby – CRS patrols in the neighbourhoods of Planoise and 408. Stone throwing at police and putting out of action of surveillance cameras are common.
Therefore, modest attacks were carried out in solidarity with these acts of urban revolt this month in liberated zones of this prison-city.
A list of vehicles that had their tires slashed:
– a 'Hertz' rental car
– a 'Foncia' estate agents marked car
– a vehicle of APRR, which is part of the Eiffage Group
– around thirty bikes of JC Decaux (besides being a well-known contributor to the gentrification of neighbourhoods where they implant bike docking stations, their role of exploiting prisoners for which the company publicly boasts is now widely known)
– the Departmental Council of Doubs car park (more than a dozen vehicles in total: cars and vans)
An excavator of the Eiffage construction site (prison manufacturers) had it's tank destroyed, who are building a gigantic luxury housing complex and a shopping centre in the heart of the city centre.
Support to the rioters of Besançon neighbourhoods that are in the hands of the enemy!
Strength and solidarity to anarchist comrades kidnapped in Operation Piñata, as well as Monica and Francisco! Solidarity with the prisoners of social war throughout the world!
Down with gentrification!
Destroy all that domesticates and destroys us!