In 2009, the anarchist urban guerrilla group Revolutionary Struggle (Epanastatikos Agonas) was designated a "foreign terrorist organization" by the U.S. Department of State, in the aftermath of a rocket propelled grenade attack against the U.S. Embassy in Athens in January 2007.
On April 21, 2015, the State Department issued "terrorist designation" against one of the members of Revolutionary Struggle, anarchist prisoner Nikos Maziotis. The next day, the comrade issued the following statement in response.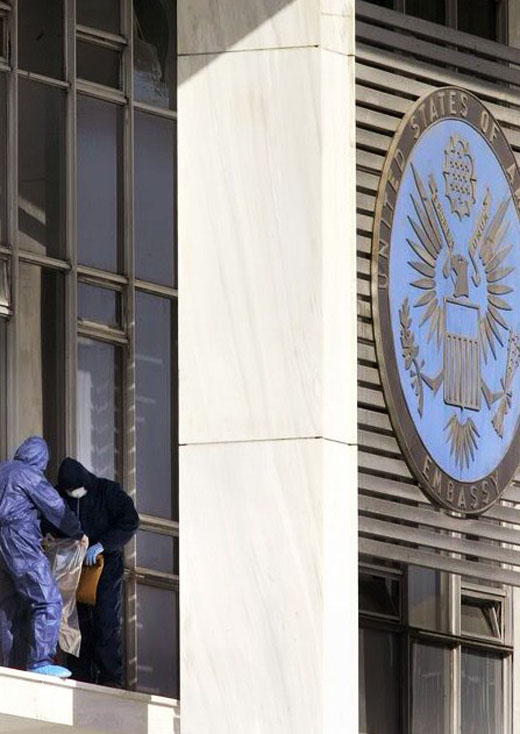 "Whoever is not with us is against us"
– from a speech of U.S. President George W. Bush after September 11, 2001
"We are not with you, we are against you"
– from a statement of Nikos Maziotis to the special court in Koridallos prisons on June 11, 2012 regarding the Revolutionary Struggle attack on the U.S. Embassy
The State Department admittedly did me great honor by including me in the list of international "terrorists". This is the second time that the planetary killers honor me as a Revolutionary Struggle member, since they had placed a one-million-dollar bounty on me along with other members of the organization after the Revolutionary Struggle attack against the U.S. Embassy in Athens in January 2007.
Obviously this move signifies the pressure exerted on the Greek government in response to the recent passing of the justice ministry's bill, which includes a provision whereby prisoners with disabilities of over 80% like Savvas Xiros, from a point onwards, may be placed under house arrest on electronic monitoring for the remainder of their sentence, what the U.S. ambassador to Greece described as a hostile act.
This move is a sign of lack of confidence towards the Greek government, and sends a strong message; that the U.S. government – which does not recognize any court precedent in another State in case of an attack on U.S. targets – may arrest and prosecute any armed fighter and revolutionary who have attacked U.S. targets anywhere in the world, even if they have stood trial and have been incarcerated in the country where this attack was perpetrated. But the State Department has nothing to worry about. The SYRIZA-led government, despite deviations, will present themselves as consistent with the united front in the war on "terrorism", just as they are being consistent with their debt repayment obligations to the creditors of the supranational elite. Besides, they stated that they "are doubly sensitive to issues of terrorism, since many attacks were carried out in the name of the Left."
Regardless of how many years I have to spend in prison, regardless of the price I pay, I will always be filled with joy remembering how we as Revolutionary Struggle humiliated them that morning of January 2007, when we struck the facade of the U.S. Embassy with an anti-tank RPG, and I will always remember with satisfaction the words of the then U.S. Secretary of State Condoleezza Rice, who woke the then planetarch George W. Bush, saying: "Mister President, we are under attack in Athens."
Nikos Maziotis, member of the Revolutionary Struggle
Domokos prison