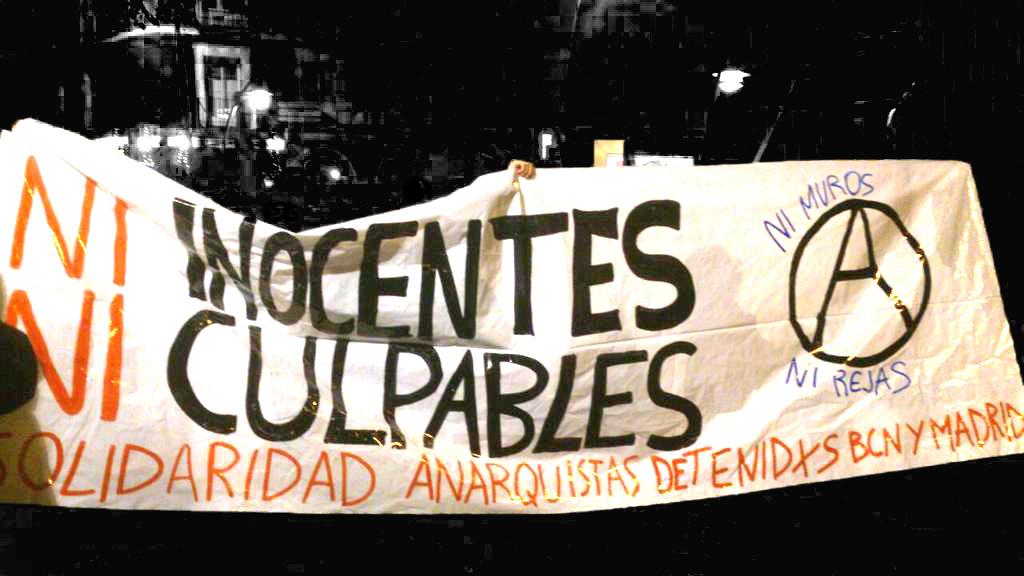 On December 16, Operation Pandora was unleashed. The State's security forces burst into different houses and squats in Barcelona and Madrid, and eleven anarchist comrades were kidnapped.
This kidnapping—and it couldn't have been done any other way—was coordinated with the media, who helped justify and legitimate it with heart and soul, spreading the news that the police had carried out an operation against international anarchist terrorism. This kidnapping of eleven comrades set off a multitude of rallies and demonstrations that same day in different cities—Madrid, Barcelona, Seville, and Zaragoza, for example—thousands of people coming out in solidarity with the kidnapped comrades and showing rage and hatred towards the State's new repressive operation against the libertarian movement.
Two days later, on December 18, the news came to light that Judge Javier Gómez Bermúdez, with an ample repressive history behind him, ordered pretrial detention without bail for seven of the eleven comrades, in so doing giving greater media and political justification for the repressive campaign. We have to remember that this new repressive operation is closely related with the still-open repressive case against the anarchists Mónica and Francisco, who have already spent a year in pretrial custody, in isolation, and to remember that the torturer Javier Gómez Bermúdez was also responsible for imprisoning those comrades.
The persecutor Javier Gómez Bermúdez justifies the pretrial detention of these seven comrades with such compelling reasons as "there are indications that support the hypothesis that they are part of coordinated anarchist groups with terrorist ends" and that "they seriously upset the public peace." However, as anarchists, we are not going to play the game the System imposes on us, the game of concepts, assessments, guilt, innocence or "investigation" processes; as anarchists, we recognize neither their Justice, nor their Law, nor, of course, their Public Peace; not only do we not recognize them, but we fight them and we declare war on them without quarter. We're not concerned with what our kidnapped comrades did or didn't do or say; we don't recognize the categories of "innocent" or "guilty" imposed by the System, categories that only make sense when recognizing and legitimizing the Law and the Judicial System.
It seems that, in the police searches, numerous copies of a book called "Against Democracy" ["Contra la democracia"] were found. This book attempts to provide tools of reflection and debate for those who oppose democracy, that mythicized and deified system that we are all obligated to venerate and defend, given that if we don't, we run the risk of ending up with our bones in the State's dungeons. However, we know that democracy is precisely the following, the same story once again: repression and incarceration of all those who raise their heads and fight daily for the destruction of all Authority and the construction of a new world that works based on horizontality and mutual aid, in which all vestiges of Power have disappeared.
Democracy is, necessarily, prison, the police, pistols and bombs, wage labour, schools as centres of indoctrination and distortion, psychiatrists, merchandise, the Parliament, government and domination as a form of "organizing" society…; democracy is simply one more way that the State and Capital, the dominant minority, have of administering their system of oppression. It's because of this that, as anarchists, we declare war against democracy and any other system of domination and Power; it's because of this that we fight and will continue to fight the "public peace" mentioned by the torturer Javier Gómez Bermúdez, the public peace of jails, of wars, of unemployment, of wage and labour exploitation, of hunger, of misery, of evictions, of consumerism, of beaten and expelled migrants, of arrests and police torture, of the hundreds of women killed at the hands of machismo and patriarchy, of the representation of our lives in the hands of a minority by means of the vote and parliamentarianism, of that false life of cardboard and money whose goal is for us to forget and for us to accept our alienated, submissive, and empty lives.
It's because of this that yesterday, today, and forever we will struggle day to day against the State, Capital and all forms of Authority, even if they are dressed up in the suit of democracy. It's because of this that it is undeniably clear and certain to us that we will defend our kidnapped comrades with tooth and nail, that we will unleash that which always scares the State so much: anarchist solidarity, that is to say, mutual aid and direct action against the Enemy and its institutional tools and frameworks. This new repressive blow is not going to put the brakes on the struggle, but just the opposite: we will continue on the path we have set forth on, we will strengthen and organize ourselves even more so as to continue and magnify the everyday struggle against the system of oppression and domination that we suffer permanently and daily. We will construct a new world, where not a trace of Power remains, in which there will be neither dominators nor dominated, neither condemned nor persecutors, persecutors like Javier Gómez Bermúdez.
INTERNATIONAL ANARCHIST SOLIDARITY!
FREEDOM FOR ANARCHISTS IN PRISON!
DEATH TO THE STATE AND LONG LIVE ANARCHY!
FIJL
Grupo Aullido Libertario
Nafarroako Gazte Anarkistak
Juventudes Libertarias de Mallorca
Juventudes Libertarias de Salamanca
Translated from Spanish / Source: Iberian Federation of Libertarian Youth (December 22nd, 2014)