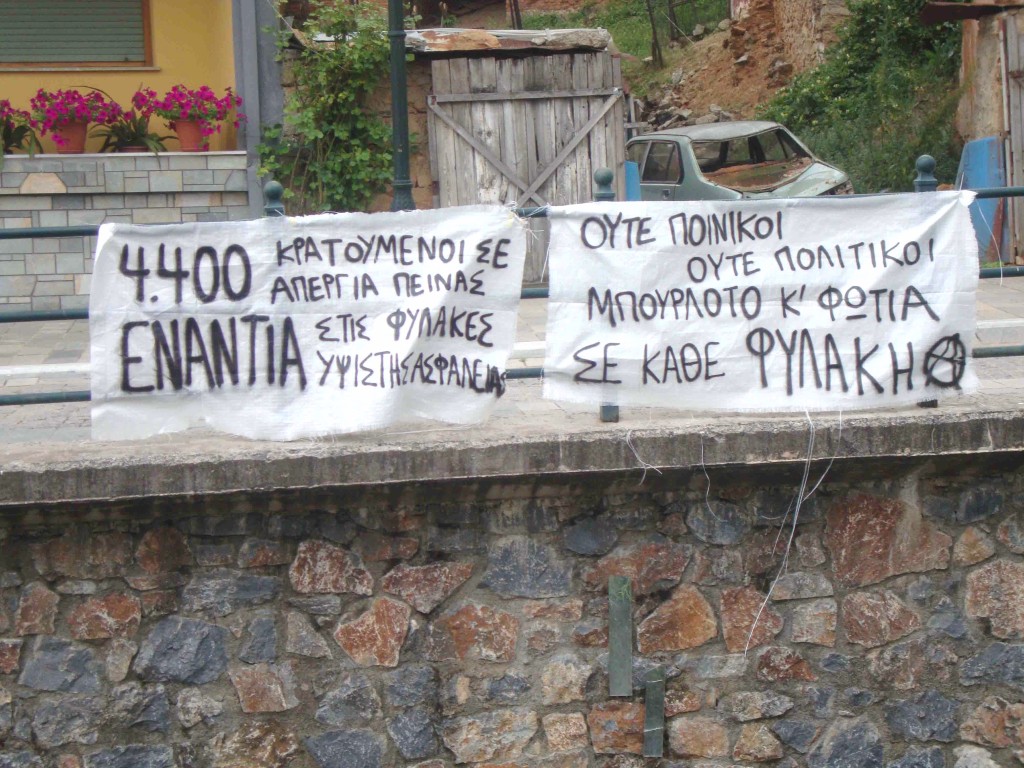 As of June 27th (5th day of mass hunger strike), more inmates have joined the hunger strike in the prison of Corfu, taking courage from the warm supportive intervention outside the extermination centre.
On the same day, the network of imprisoned fighters called for solidarity with the ongoing struggle in Greek prisons, referring also to the case of hunger striker Nicolò Angelino, hostage of the Italian State.
In the night of the 27th, the inmates in all wings of Koridallos men's prison refused to be locked up in the cells for one hour (until 10pm), protesting because there is a huge lack of doctors, nurses and other medical personnel, like stretcher bearers, in the prison and its 'hospital' in particular, but also due to the fact that the screws have declared a 'work stoppage', thus actually blocking visits between the prisoners and their lawyers or relatives.
Since the 28th of June (6th day of mass hunger strike), protest mobilizations have intensified ahead of voting, on Thursday, July 3rd, 2014, of the new draft law on maximum security prisons.
In the morning of the 28th, five incarcerated comrades currently on hunger strike were moved to the infirmary in Koridallos men's prison, namely Yannis Michailidis, Argyris Ntalios and Nikos Romanos, as well as CCF members Michalis Nikolopoulos and Panagiotis Argirou. Meanwhile, over 30 hunger strikers have been transferred there already. As expected, the prison director Maria Stefi (whose car was blown up by anarchists in 2013) has demonstrated a total disregard for their health condition sending most of them quickly back to the wings.
On June 29th (7th day of mass hunger strike), more hunger strikers reportedly had a fainting episode at Koridallos.
ACTIVE SOLIDARITY WITH THE PRISONERS' STRUGGLE