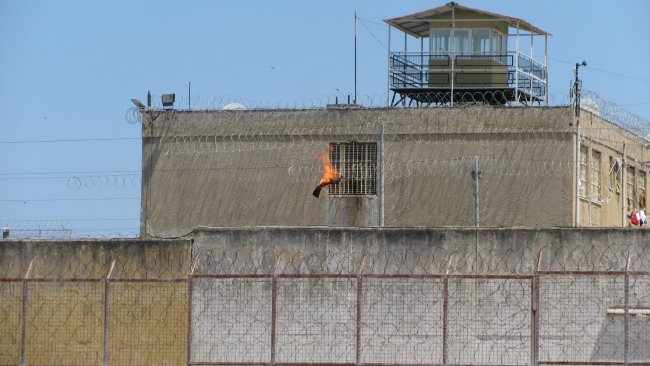 On Sunday morning, June 29th, some 50 comrades went to Aghios Stefanos prison in Patras, where 550 prisoners are on hunger strike. Local authorities were caught off guard and reacted in panic. Through loudspeakers, the administration ordered the prison staff to lock inmates who had entered the yard back in their cells.
Upon arrival, comrades set up a sound system and read words against maximum security prisons and messages in solidarity with prisoners. They chanted slogans around the outer fence of the prison and then approached the walls near the main entrance, where slogans like "solidarity with the struggles of prisoners" and "fire to the galleys" were painted, while screws and cop cars were going back and forth.
There was a direct line of sight to prisoners, who responded with shouts such as "fuck maximum security prisons" and "we're gonna continue the strike till victory".
Solidarity with prisoners on hunger strike
Against maximum security prisons and special conditions of detention
Until every prison is demolished