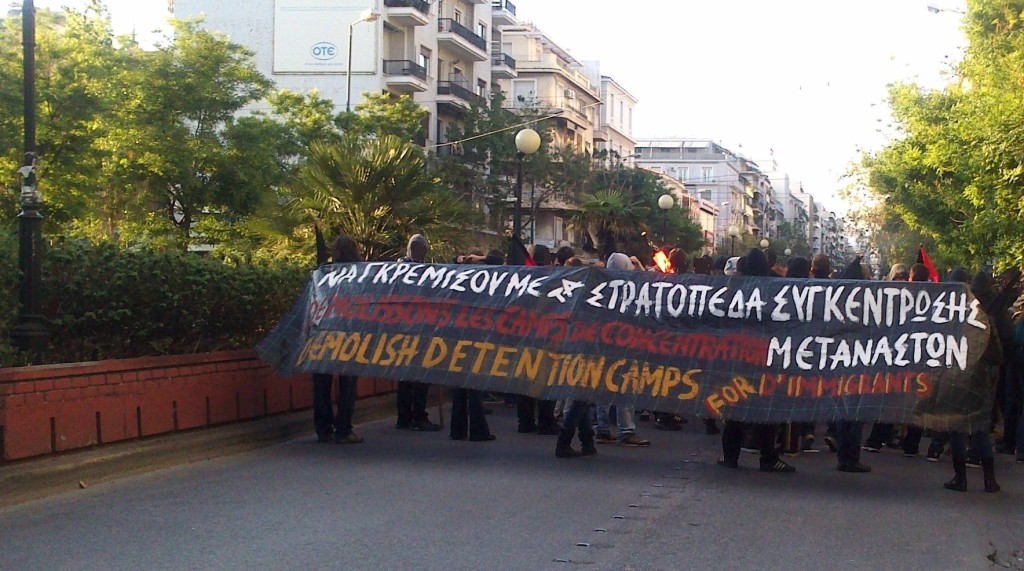 In the evening of May 6th, 2014, people held a demonstration in downtown Athens demanding the immediate release of ten migrants who remain in custody since April 8th (two others from the arrestees have been released until the hearing). That day, 12 migrants were caught (alongside a student) in a coordinated raid of plainclothes cops, fascists, DELTA motorcycle police units and MAT anti-riot squadrons outside the ASOEE faculty (Athens University of Economics and Business).
The demo of around 400 protesters, both migrants and people in solidarity, started from ASOEE and moved on Patission, Mythimnis, Ierosolymon, Aristotelous and Heyden streets, walking through neighbourhoods where migrants live, before returning to ASOEE's building. Multi-language texts, fliers and leaflets were shared out by various collectives from the areas of Kypseli, Aghios Nikolaos, Patissia and the city centre.
The trial of the arrestees is set for June 25th, 2014, after being postponed twice so far.
We continue…
Until the last migrant is freed from concentration camps and police stations.
People in solidarity from neighbourhoods located in the city centre of Athens