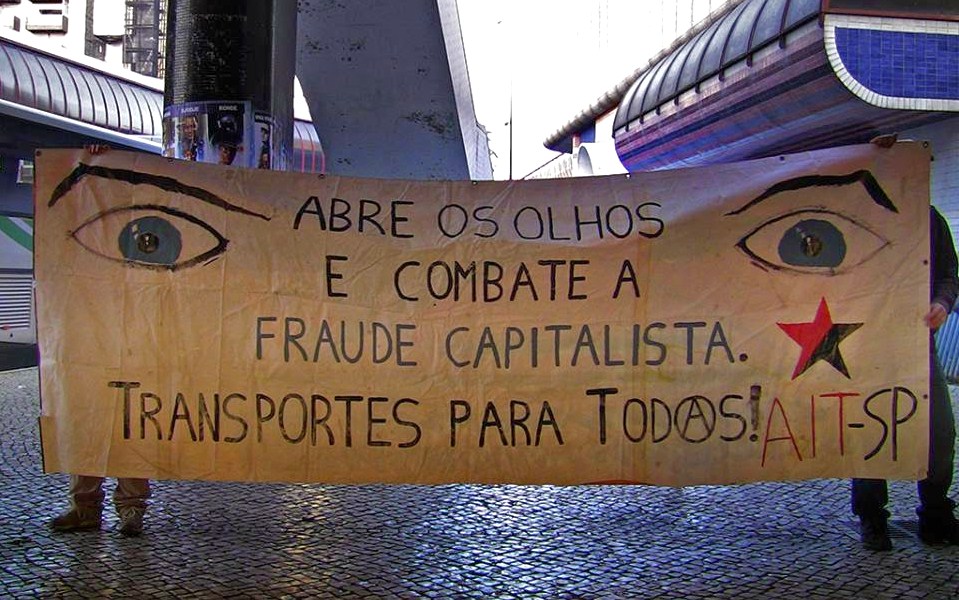 On Wednesday, March 19th, a gathering under the motto "Open your eyes and combat the capitalist fraud! We want free public transport for everyone!" took place in the Campo Grande metro station in Lisbon.
The initial call made by the Lisbon Nucleus of AIT-SP (International Workers' Association-Portuguese Section) was embraced by many people, as a result of the indignation caused by a joined campaign of the Carris/Lisbon Tramways Company and the Lisbon Metro that urge the passengers to snitch on any free riders, leading every day to the exclusion of more people from the right to mobility, just because they don't have the money to pay the transport fees that are rising daily. The main slogan of the protest was a reversion of the one used by this campaign, that calls to "open your eyes and combat fraud".
During the two hours of the gathering, the hundreds of fliers were not enough to distribute to so many hurried passersby. Even so, many were those who stopped and showed their support toward the intervention. The band Ritmos de Resistência (Rhythms of Resistance) joined the action, lifting up the spirit of those present and attracting the attention of more people to the protest. Finally, we all agreed that we wanted to multiply this kind of actions, in favor of a truly public transport, for everybody.
Our thanks to all those who participated in the intervention.