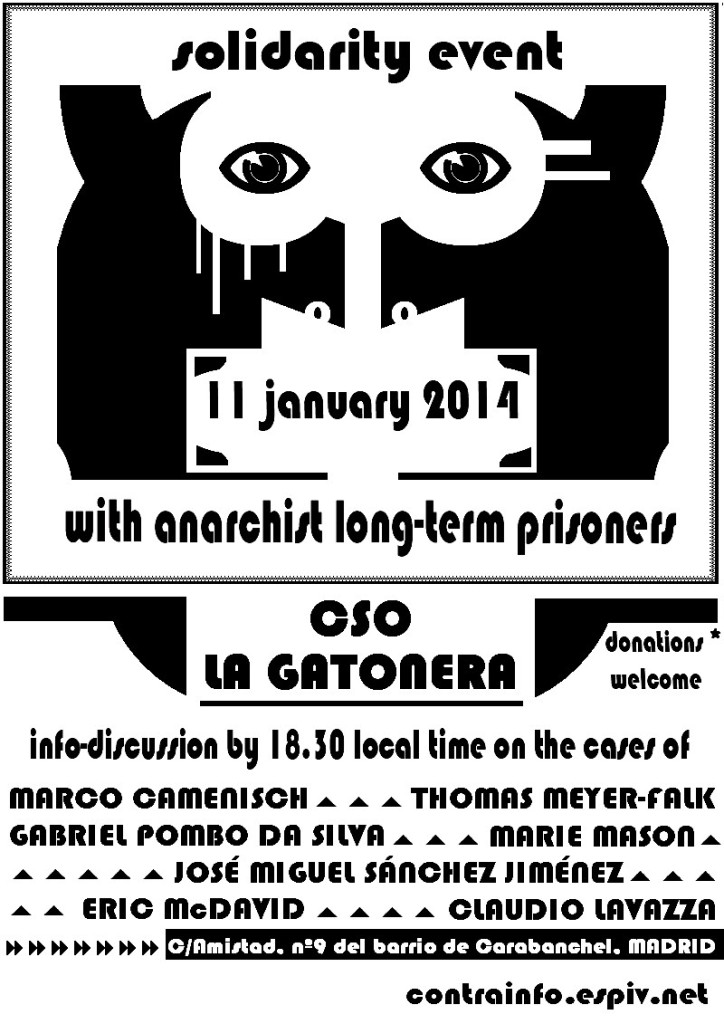 On Saturday, January 11th, the squatted social centre La Gatonera, located on 9, Amistad Street in the district of Carabanchel, Madrid, hosts an info event in solidarity with anarchist prisoners facing long sentences worldwide.
We meet at 18:30 and begin counter-information talk, with the aim to publicize some of the cases of brothers and sisters who are incarcerated in the democratic dungeons of different States for many years already. Following a presentation of the cases of Claudio Lavazza and Gabriel Pombo Da Silva (prisoners in the Spanish State), Marco Camenisch (imprisoned in Switzerland), Thomas Meyer-Falk (captive in Germany), Marie Mason and Eric McDavid (imprisoned in the United States), and José Miguel Sánchez Jiménez (prisoner in Chile), we freely discuss ways to strengthen and extend solidarity ties, also through structures of counter-information and factual support, with prisoners of social war.
The evening includes solidarity cafeta, with vegan sandwiches to kill hunger.
We want to make this meeting an opportunity to break the silence in which they try to bury anarchist prisoners, to diffuse their words, and propagate the fight with all means possible against the prison society and those who sustain it.
By the way, this is a self-organized event so we hope we can count on your support, both in terms of physical presence and active participation, as well as free donation for imprisoned comrades.
Prisoners to the streets! Streets for the insurrection!
Contra Info