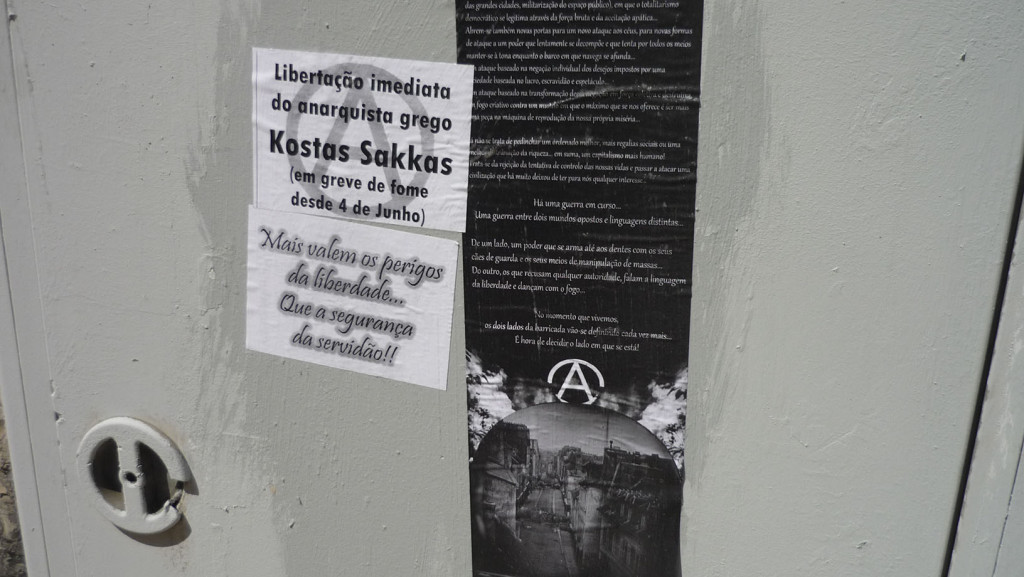 On Thursday the 27th of June 2013, during a protest march in the city centre of Lisbon in the context of the general strike launched by trade unions in Portugal, we held an interevention of solidarity with anarchist Kostas Sakkas, prisoner in Greece (since December 2010). The comrade has started a hunger strike since the 4th of June, demanding his immediate release from prison. June 4th was also the day when the period of his pretrial detention ended —according to the Greek law, 30 months are the maximum time that a prisoner accused in two cases may spend on remand.
During the demonstration, 400 anarchist posters were pasted and hundreds of fliers were thrown or stuck up on walls, as a minimum gesture of solidarity to our comrade in his ongoing fight for freedom and life.
The perils of freedom are worth much more than the safety of servility.
From Brazil to Turkey, we organize the attack against apathy.
From wildcat strike to revolutionary unemployment.
We do not ask anything, because what we want is the end of a world where we cannot have everything.
Solidarity, self-organization, attack.
Immediate release of anarchist Kostas Sakkas, on hunger strike from June 4th in Greece.
Rage, stones, barricades; for a life without masters or slaves. (A)