Last night, Sunday the 16th of June 2013, it was calm in the city of İzmir. People gathered in Alsancak, at Gündoğdu Square, but the repression forces didn't react. This is probably the current police strategy. They attack with huge forces in İstanbul and Ankara, but 'let the other cities be' for the time being.

The cops have dispersed the Taksim Gezi commune. The police's fourth attack on Gezi Park was the most brutal one. Anti-riot squads, as well as many plainclothes (some of them cops, some of them Tayyip Erdoğan's supporters), attacked in evening hours when it was crowded, and there were also children and old people in the area. Now, instead of huge blocks of police, numerous plainclothes cops in many inner streets wait to capture people. Protesters that live in the surrounding neighbourhoods are trapped in their houses and looking for ways to gather again outside. On Sunday night, twitter was flooding with messages that were calling people to take shelter in their houses.
On the previous evening, June 15th, they cut or pulled out some of the trees in Gezi Park while the Prime Minister Tayyip Erdoğan was making a public speech. Mainstream media (especially NTV, and Habertürk) manipulated the facts. Habertürk broadcasted Tayyip's speech with subtext "Prime minister giving speech to 1 million people." The place where he gave his speech has the capacity of 250,000 people (4 persons per 1 square meter), and the half of the place was empty — of course, this was not shown in the media. Soon thereafter, during the violent crackdown in Taksim, the subtext was "Police taking the provocateurs out of Gezi Park." (They are using the word 'provakatör' to describe people who are provoking others for violence, labeling each one of them as terrorist, as a person to blame. Meanwhile, many people don't know what the word really means.)
In previous days, the police had detained 29 people blaming them for their messages on twitter (some of them are very naive). According to the Interior Minister, people who were active in social media will be hunted also in other cities, and new state laws will be voted about Internet.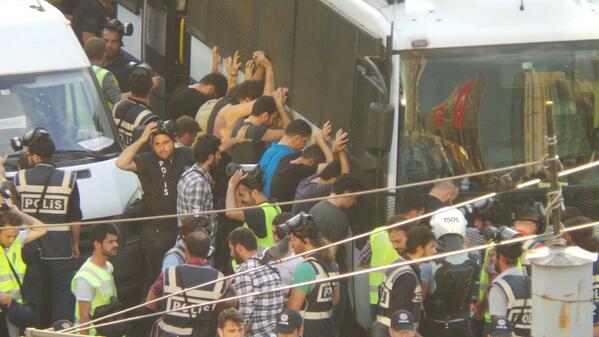 Yesterday (16/6) a total of 455 people were detained all over Turkey — 193 in İstanbul, 105 in Ankara. 22 of them, including some members from Çarşı and some physicians, are accused of being 'organizatör' (organizer). The Organized Crime department of the Turkish police will investigate into these persons, and they will be interrogated for 4 days.

Today (17/6) workers unions are on strike, namely DİSK (Confederation of Revolutionary Workers Unions), KESK (Confederation of Public Workers Unions), TMMOB (Union of Chambers of Turkish Engineers and Architects), TTB (Turkish Medical Association), and TDB (Turkish Dentists Association).