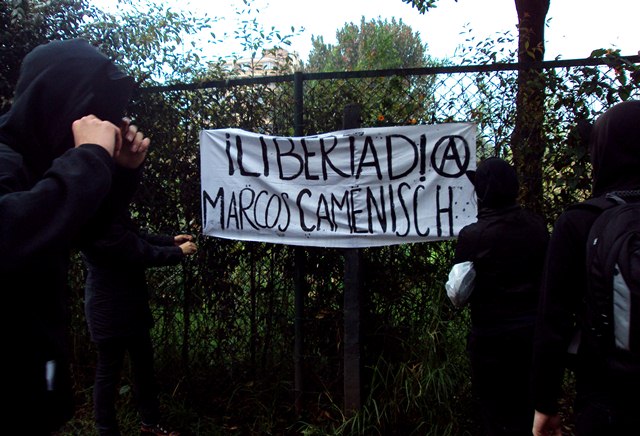 We join the international call for mobilizations towards the release of compañero Marco Camenisch! So, this February 5th, we went at the Embassy of Switzerland in Bogotá, Colombia.
Marco is behind bars for more than 21 years without interruption. He should have already enjoyed conditional release, because the laws of the Swiss State stipulate that those who have completed 2/3 of their prison sentence should be freed. But Marco has been consistent all these years, and never bowed his head in the face of inequality and harmfulness of this system; he is thus observed by the Swiss authorities that want to exhibit their most cruel and less accurate ruling, that is: Marco should remain in prison.
Marco's rebelliousness and consistency with his ideas are too harmful or dangerous to the opulent Swiss society. His radical stance remains intact during all these years of tenacious struggle against this sick and poisonous society.
Prisons are an expression of a society based on exploitation and oppression. Persons who oppose the established order are being incarcerated, labeled as mentally ill, as rebels, dangerous or injurious. Custody is the appropriate instrument they use, with prison terms that give them the opportunity to get rid of those who carry out the struggle, while securing their hypocritical laws in order to maintain order.
It's about time for those who keep our comrade chained up to get it through their heads that Marco is not alone and his incarceration will always be a source of nuisances and problems for the economic interests that are so dear to the Swiss State. And these interests' agents and structures are also present here before us, through innumerable financial and insurance agencies, or companies in the field of transportation and communications, or food and pharmaceutical industries.
For this reason, we consider any initiative of raising awareness as useful so as to directly act against such interests, until the cry of solidarity reaches the ears of Marco's prison guards in this decisive moment for the outcome of his case.
Much higher than all existing walls, much more than the frontiers that separate us! May the howls of our pack reach out to every place!

Until Marco is free! Against the State and its prison system!