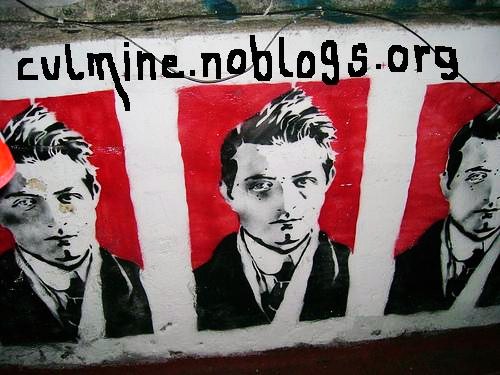 CULMINE – To all those who love the revolt as a savage bush all their lives from their own roots.
In 'our' prison cells, perhaps with unavoidable delay, we receive news, updates, texts and communiqués for actions… We revel in them; these phrases are the lifeblood of us, they open up gold and red warm spaces in a world of submission.
They are a proof that solidarity is not just an empty word; they are a proof that the destructive impulse of liberation is necessarily stronger than any hope for change.
Various different actions spread like a storm of rebellion halfway around the world: from Argentina to Russia, from Spain to Chile, from Mexico to Greece!
When the stamp of censorship can succeed nothing more but remind us that there's always a cage ready for whomever rejects the established order, those scattered leaves make our hearts beat faster as we read words of solidarity and complicity with all the kidnapped by the various States/dictatorships… And we're only a couple of the very few individuals that are incarcerated alone here by the timeless Inquisition.
With these few words we want to tell you that we're doing well and aiming at the moon, which we cannot see but we still listen to.
With this brief text of ours we wish to express our closeness to those who armed their own subversive fantasy dedicating direct actions to Culmine, the anarchist blog which was encaged on June 13th, 2012.
We want to extend our strengthful solidarity to all the dignified prisoners in struggle on the planet, and send a strong rebellious embrace to anarchists of praxis who expressed their solidarity with us by any means possible and in many corners of the world.
Elisa, anarchist prisoner. Rebibbia prison, Rome.
Stefano, anarcho-individualist prisoner. San Michele prison, Alessandria.