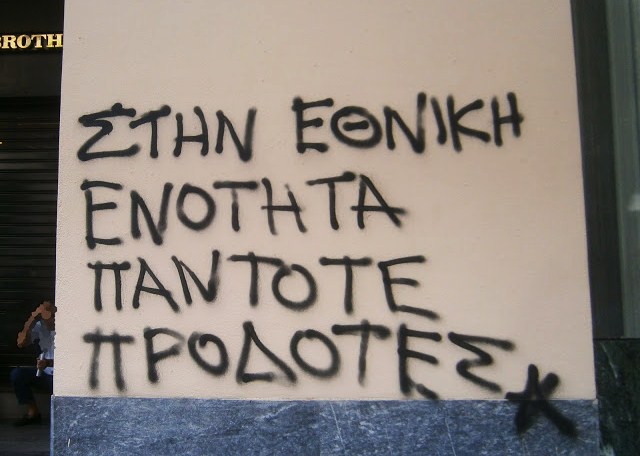 22.30 A total of 103 demonstrators were detained by police in Athens, during the general strike.
Seven detentions were later turned into arrests. Among the arrestees, one protester had his nose broken because he was assaulted by murderers in uniform earlier in the demo, so he was in urgent need of medical care. They were held in temporary custody at the police headquarters (five of them on felony charges, two on misdemeanors).
A gathering was called for Friday, October 19th, at 12.30 (GMT+2) in Evelpidon courts (building 16), in factual solidarity with the seven arrestees who will appear before public prosecutor tomorrow.
Photo coverage of the strike mobilization in Athens.

18.50 Nearly 30 comrades called for more supporters to join them at a solidarity gathering in front of the Athens police headquarters, on Alexandras avenue, in order to demand the immediate liberation of all detainees.
18.00 In Exarchia, along Zoodochou Pigis street, barricades are set on fire again.
17.50 More than 100 detentions were made in Athens (the number of detained demonstrators who might also be faced with charges is yet unknown).
17.20 Much earlier, in downtown Athens, at least two plainclothes cops were spotted by demonstrators and received 'special treatment'.
17.00 Trikala: After the strike demo, public school teachers and supporters went to the prefectural department, specifically to protest against the local chief of secondary education, who intends to agree upon school mergers in the area and further cuts in the education sector.
Preveza: A lively demo of at least 300 strikers was ended at around midday. A new group, the Libertarian Circles of Preveza, had some 30 comrades in its bloc. The march was constantly followed by police motorcycle units, patrol cars and plainclothes cops.
Patras: More than 10,000 people from base unions, etc. hit the streets. After a call-out by the assembly of anarchists against wage slavery ('O ergaleioforos'), the anarchist bloc was attended by 400 comrades, whose central banner read 'Zero tolerance to State, bosses, fascists – Social and class counterattack'. The Stalinists of PAME were nearly 13,000 in their respective parade.
Serres: Nearly 3,000 strikers marched in the town.
Xanthi: More than 5,000 people took to the streets, and almost all commercial stores were shut for the day.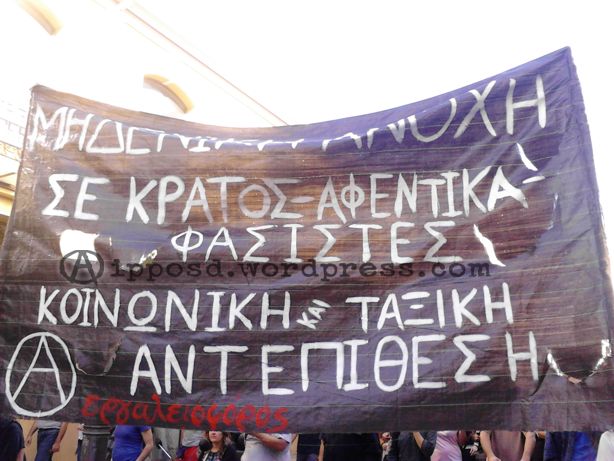 16.10 More detentions at Syntagma. Small number of strikers tried to approach the square upon hearing the news on the 65-years-old demonstrator who died earlier.
15.50 Strong clashes between resisters and cops on the streets in the vicinity of Exarchia square.
15.40 According to confirmed reports, an old demonstrator (65-years-old docker, said to be affiliated to PAME and long-term unemployed) died of heart failure after being admitted into Evangelismos hospital at 14.00.
Another, younger, protester was evacuated to hospital in a serious state, remaining unconscious.
15.20 Dozens of anti-riot squadrons launched their ultimate 'cleaning operation' in the wider area of Syntagma, especially in front of the parliament.
15.00 Earlier many demonstrators were chased off from Syntagma and had to run along Syngrou avenue. Many people got trapped by squads on Ermou and Mitropoleos streets.
Scattered protesters at Syntagma. Cops are safeguarding the parliament.
Cops surrounded the first aid team at the lower side of Syntagma square. Violent arrests, followed by fierce beatings and threats by the mercenaries of Power against protesters.
14.50 Twenty DELTA thugs on 10 police motorcycles lurked at the corner of Akadimias and Emmanouil Benaki streets. Other police motorcycle units also drove quickly by Apostolou Pavlou street, in the vicinity of Acropolis.
14.30 Earlier it was reported that an MP of the junior coalition government party Democratic Left (DIMAR) was booed by protesters and run off to hide into an arcade of Karageorgi Servias street.
14.20 Many anarchist/anti-authoritarian blocs headed back to Exarchia, while there was still easy access to Syntagma from Panepistimiou street. Strikers were scattered across Syntagma square. More demonstrator blocs kept arriving from Stadiou street, but were cut off by police on Vasileos Georgiou street and were faced with intolerable tear gas all over the place.
Meanwhile, more fascists (a large group, different than the few neo-Nazis who made their appearance previously) were gathered at the corner of Amalias avenue and Vasileos Georgiou street, in particular 'left-wing' patriots affiliated with the 'Spitha' patriotic fraction, co-founded by the composer Mikis Theodorakis and other nationalist scum. They carried national flags, etc. and literally served as a rearguard of the cops outside the Hotel Grande Bretagne. Soon thereafter, some comrades remaining at Syntagma confronted verbally these 'left-wing' fascists, also shouting the slogan: 'Neither patriots, nor Stalinists – Atheists, apatrides and anarchists!'
14.15 One severely injured woman was lying on Panepistimiou street near Propylaea for a long time; the ambulance was delayed despite repeated emergency calls.
At least two other strikers were severely injured. A large number of protesters suffered injuries; many of them hurt on the head by baton charges. In several cases, police forces hindered their transportation by ambulances.
14.00 At Syntagma, one neo-Nazi was beaten up by protesters and got his shirt (with fascist symbols) ripped off.
13.50 Hundreds of protesters were pushed away by anti-riot squadrons towards the upper side of Syntagma square.
Police surrounded the first aid team located on the square. Really suffocating atmosphere by tear gases.
13.40 Ongoing clashes with police forces in Syntagma, close to Hotel Grande Bretagne but also at the lower side of the square, on Philellinon street. Molotovs and other objects thrown on cops. People resist, despite the tear gases and police charges.
At the corner of Vasileos Georgiou street and Amalias avenue strikers spotted a group of neo-Nazis (with distinctive features).
13.20 COPS–PIGS–MURDERERS is chanted by various protesters, as anti-riot squadrons are deployed in front of Hotel Grande Bretagne, cutting off Vasileos Georgiou street in Syntagma square. Cops also fired tear gases and stun grenades, trying to disperse the crowd. People resist the repression, others with pacifism, others with anger and use of counter-violence.
13.10 Preemptive detentions of protesters are being reported in several parts of Athens.
12.50 Lesvos Island: In the city of Mytilini, the base unions' rally was attended by more than 100 strikers, while PAME had 250 of its Stalinists on the streets. A total of 800 strikers marched in grassroots blocs.
12.45 Athens: In the day's mobilization participate fewer demonstrators than those in the previous strike (September 26th), but still thousands have hit the streets so far. Anarchist/anti-authoritarian blocs at the height of Omonia square and Stadiou street.
12.30 Ioannina: Almost 6,000 strikers joined the city's demo.
12.15 Komotini, northern Greece: Almost all commercial stores are closed due to the strike.
12.00 Athens: Blocs of the Stalinists of PAME marched their way through central Athens, alone, and then went home.
Corinth: Approximately 500 people attended the strike rally.
11.50 Downtown Athens: Hundreds of people are gathering on Patission street, preparing for the main strike demo towards Syntagma. Heavy police presence on many locations.
Thessaloniki: Blocs of the Stalinists of PAME marched separately from other strikes, as always.
The workers of Viomichaniki Metalleutiki or VIO.MET, a mining industry in Thessaloniki—who are still on strike and consider taking the factory into their own hands—also called for today's demo.
11.30 Lefkada Island: A total of 250 people participated in the strike demo in the small town, including school students that chose to march with their own bloc, rather than going to school.
Skopelos Island: At least 100 people attended the local strike rally.
Athens neighbourhoods – Few of the pre-gathering calls from popular assemblies from 10.00 to 11.00 (GMT+2): Aghios Dimitrios–Brachami assembly at Dafni metro station, Petralona–Thissio–Koukaki assembly at Petralona metro station, Zografou assembly at Gardenias square, Vyronas–Kaisariani–Pangrati assembly at the junction of Formionos and Ymittou streets, Peristeri assembly at Dimarchiou square, Cholargos–Papagou assembly outside Cholargos' city hall, Aghia Paraskevi assembly at Aghiou Ioannou square.
Greece's yellow trade unions, GSEE and ADEDY, declared a 24hour general strike for October 18th. In downtown Athens morning gatherings are called near the National Archaeological Museum, on Patission street. This post will be constantly updated with raw translations of reports from the streets, Indymedia Athens and free radio stations.