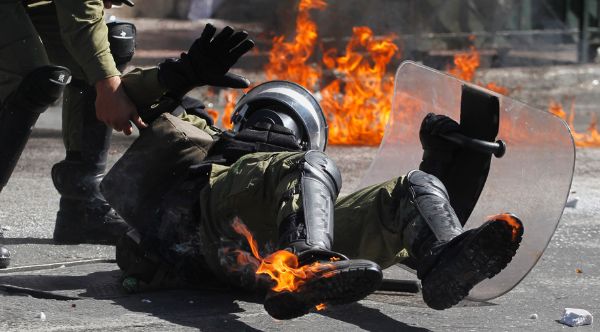 22.15 A gathering was called for tomorrow, September 27th, at 11.30 in Evelpidon courts in Athens, in factual solidarity with approximately 25 arrestees who face charges and remain in custody. Among them 12 were caught at Gardenias square in Zografou in the morning, when the strike rally was banned and attacked by the police.
Total number of detainees of the day reaches 140.
20.55 Chios saw the largest strike rally that has ever taken place on the island in recent years. It was the first time that almost all commercial stores and cafeterias were closed. An estimated 2,500 took to the streets in the morning, including several anarchist comrades and many youngsters.
20.35 Residents and strikers in Petralona neighbourhood hold a PA's counter-information gathering at Petralona metro station, demanding the immediate release of all arrestees from today's rallies.
20.30 Despite police harassment, more than 500 people marched from Gardenias square into the main streets of Zografou neighbourhood, while police units followed in very close distance.

19.30 Motorcycle police units encircled Gardenias square, in Zografou, preventing access to more protesters and threatening to detain people who have gathered in solidarity with the day's arrestees. It is the second time today that Gardenias square is invaded by all sorts of cops. People resist and call for immediate support.
Some photos of the strike demo in central Athens: i, ii, iii, iv and v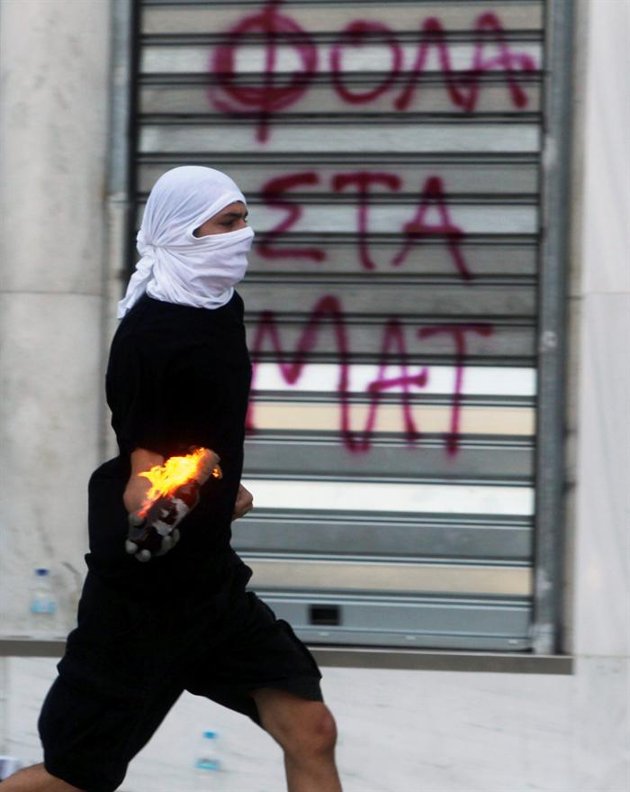 18.10 The total number of detained demonstrators is 129, according to lawyers, while the arrestees facing charges are 25 so far.
The solidarity rally remains in front of the police headquarters.
17.25 Strikers and other resisters call for a new evening gathering at 19.00 in Gardenias square, in the district of Zografou, to protest the repressive events and mass detentions and arrests of the day.
17.00 Cops unleashed a fierce attack in Exarchia, intervening from Arachovis street and dispersing people out of the square. People were chased away and ran to Harilaou Trikoupi and Valtetsiou streets. At least one more detention was reported.
16.40 In Kavala, northern Greece, several shops were closed. More than 1,000 protesters from leftist, anti-authoritarian, workers blocs participated in the demo. Nearly 100 people marched in the anarchist bloc behind a banner that read: 'With 400 euros you don't make a living; you make revolt'.
16.38 Currently, Exarchia square is crowded with people again, despite the massive presence of repressive forces in the vicinity. Also, on Alexandras avenue, the solidarity concentration remains outside the police headquarters.
16.20 In Agrinio nearly 70 comrades joined the bloc of Apertus squat, libertarian school students and other anarchists. A total of 1,800 strikers participated in the two separate marches that took place in the town.
16.05 At least 13 out of 20 detentions from the morning operation in Zografou have now been turned into arrests. One among these protesters was severely injured and is currently hospitalized. Furthermore, arrestees have not yet been able to consult lawyers, nor is it known when they will appear before a prosecutor in Athens courts.
There were a total of 104 detentions, according to police announcements so far.
15.45 Clashes are escalating in Valtetsiou and E.Benaki streets, in Exarchia.
15.40 More than 250 people have gathered so far outside the police headquarters of Athens, in solidarity with all arrestees of the protest.
15.35 There are ongoing clashes in the corner of Aiolou and Stadiou streets, close to Omonia, as well as battles between resisters and cops in Ermou and Mitropoleos streets, near Syntagma. Petrol bombs are thrown at cops. More detentions are reported.
Heavy police forces at Exarchia are chasing protesters away from the square, pushing them to Strefi hill.
15.15 Clashes and barricades on Solonos street. Armored firefighting vehicle (resembling water cannon) appeared in the streets of Exarchia, crossing E.Benaki street.
15.10 There were reportedly numerous detentions in Stadiou and Panepistimiou streets, but also in the area of Omonia. Injured protesters received first aid.
14.52 People who were detained earlier in Kalogiron square near Dafni metro station are released.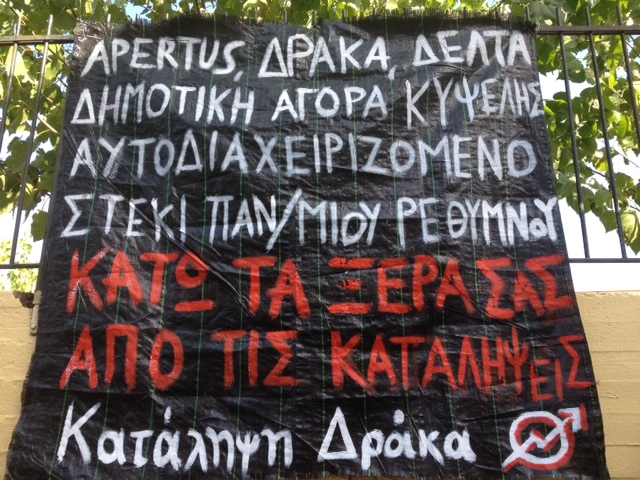 14.50 On Corfu, the strike demonstration started at 11.00, including nearly 50 comrades from the collectives of Draka and Elaia squats marching in two blocs. Slogans were painted on walls, leaflets were passed out to people and eggs were thrown on bank branches. Comrades from Draka squat erected a banner at the pre-gathering point, in solidarity with squats and self-managed spaces that were violently attacked in recent months. Their banner reads: 'Apertus (Agrinio), Draka (Corfu) and Delta (Thessaloniki) squats; municipal market of Kypseli (Athens); self-managed hangout in the University of Rethymnon (Crete). Down your hands from the squats'.
14.45 Urgent call by popular assemblies for an immediate solidarity gathering outside the police headquarters of Athens, on Alexandras avenue, in support of the many arrestees from the day.
[vimeo]http://vimeo.com/50216263[/vimeo]
14.30 Mass and dynamic presence of base unions and popular assemblies, as well as anarchist/anti-authoritarian blocs along with other demonstrators at the lower side of Syntagma square. Soon thereafter, cops fired tear gases and stun grenades against protesters on Karageorgi Servias street, while protesters counterattacked with Molotov cocktails and stone-throwing. Scattered clashes broke out following numerous arrests. Heavy police forces are deployed across Syntagma. Anti-riot squadrons cut off Othonos street. Hundreds of people were forced to leave the square, and headed to the upper side, opposite the parliament. Clashes at the lower side, where firefighting vehicles soon arrived (there were initial reports about three visible water cannons, but the type of vehicles is unconfirmed). Fumes of police chemicals mingled with smokes of fires across the area. At the same time the strikers remain on other main streets. Trees inside the National Garden caught fire. Panepistimiou street overwhelmed with tear gases, too.
13.55 There is an estimated 100,000 strikers in downtown Athens, marching toward Syntagma square.
13.30 Free radio 1431am reports that an estimated total of 15,000 strikers attended the proetst march in Thessaloniki, which has now ended. Base unions called for an open assembly of strikers at Aristotelous square.
13.20 At least 10 detainees from Zografou, after the police attack on the local gathering of strikers. (No arrests were made in Pangrati.)
13.00 In central Athens, after the Stalinists of PAME and KKE carried out their separate parade and dispersed earlier at Syntagma, the strikers set off from the Archaeological Museum. Thousands of people walk Patission street and chant antifascist slogans out loud.
12.50 Nearly 200 demonstrators participated in the strike mobilization in the city of Preveza (western Greece). An anarchist/libertarian bloc marched in the city's streets for the first time, consisting of about 20 comrades and few dozens more people affiliated to them. Antifascist slogans were chanted during the protest march.
12.40 At least 50 protesters are detained in the police headquarters of Athens (GADA), without any access to lawyers. These people were caught in various districts.
12.36 About 500 people took to the streets of Mytilini, and the demo ended outside the premises of the General Secretariat of Aegean and Island Policy.
12.30 At least 10,000 protesters in the city of Patras. Equally large demonstration in Heraklion, Crete.
12.19 Free Radio Parasita from the city of Volos (central Greece) reports that around 1,000 demonstrators started marching towards Iasonos street. Earlier in the morning, an antinationalist intervention took place in the popular market on Gianni Dimou street. From 11.00 the various blocs of strikers started gathering at Eleftherias square. Police forces are suprisingly not visible in huge numbers in the city centre.
12.12 The cops have opened access on Ymittou avenue and no longer retain the bloc of the Open Popular Assembly of Pangrati. There are no updates regarding preemptive detentions from that area so far, despite initial estimations.
12.00 Police forces are blocking groups of demonstrators at the height of Pangratiou square, in the district of Pangrati. Comrades that are on the spot estimate that the cops may transfer the detainees to a police station (remained to be seen).
11.50 Free radio 98FM reports that, in Zografou district, anti-riot cops used truncheons against the demonstrators that were cut off at Gardenias square. The pigs detained at least one young woman, who was transfered to the local police department. The police attacked once again solidaritarians who attempted to gather outside the police station, and reportedly detained more people in the area.
11.30 Free radio 105FM, on Lesvos Island, reports that around 400 protesters – mainly from trade unions and leftist organizations – gathered at the meeting point in the city of Mytilini. At 11.50 the strike march began.
11.28 Thugs of DIAS motorcycle police units cut off demonstrators on Papagou street, in Zografou neighbourhood, trying to hinder their access to the city centre and the main strike demo. People in Zografou are chanting slogans and refuse to disperse.
11.14 Nearly 30 preemptive detentions in the pre-gathering of the Open Popular Assembly of Brahami, outside Dafni metro station, in Kalogiron square. All the arrestees were transferred at the police headquarters, on Alexandras avenue.
11.00 In the southern municipality of Egaleo, bosses are holding several employees locked inside commercial shops, waiting for the crowd that heads to the strike to pass by, before opening the doors to the consumers.
10.00 The Association of Employees in Book-Paper Sector of Attica is holding a gathering outside the Papasotiriou bookstore, on Panepistimiou street, in order to make sure that there will be no attempt of bosses or scabs to break the strike. A police bus and various types of cops are also on the spot. Strikers are also blocking a branch store of Agrotiki bank, a little bit higher on the same street.
In downtown Athens, strike gatherings are called for 10.30 (GMT+2) close to the National Archaeological Museum on Patission street. This post will be constantly updated with raw translations of reports by people on the streets, Indymedia Athens and free radio stations.