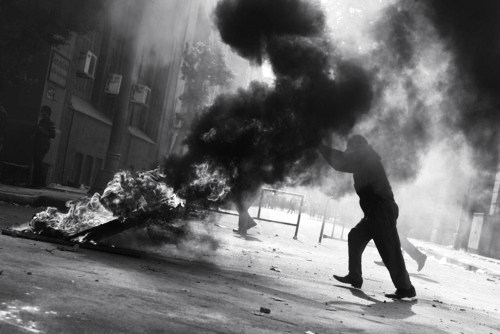 Federico Buono – editor of Edizioni Cerbero (Cerberus Editions) and among the prosecuted under operation Ardire (Boldness) – announced that he is threatened with further prosecution for 'subversive association' under Article 270bis of the Italian Criminal Code since September 1st, 2012, day marked with a new repressive operation called Thor regarding direct actions that took place in the city of Ravenna. Sara from ParoleArmate (Armed Words) has also written a statement on the matter. Here follows Tomo's communiqué:
My house was searched for the third time (this time by DIGOS political police forces), and I was notified of the second investigation against me under Article 270bis, this time regarding actions that took place in Ravenna and the surroundings of Ravenna, initiated from Bologna by the public shit-prosecutor Mangiapane [Gustapane]. This procedure (Thor: another name of fuck) involves 13 investigated people who are all on the loose – although some of them have not yet been notified of the prosecution [as of September 16th, when this text was released].
In this investigation, I am considered the leader of this subversive association.
In all sincerity – I slam my cock – these ridiculous scraps still try in vain to extinguish the fire that spreads, landing us with articles of their penal code; I have only hate and contempt for these fuckers.
I claim with pride all that I have carried out so far and I have always claimed responsibility for, without receding an inch, without making a single step back: they are grossly mistaken if they think they can stop me.
This is the fourth operation this summer, a figure to which a last one is added, that saw two anarchists arrested and one investigated on the loose, including various house searches, for the events of Genoa and Olga Cell.
They are trying in every way to silence those who want to destroy their society; I think it's crucial not to leave even the least doubt that they are able to do what they want. Today, more than ever before, we need the amoral dialogue of anarchy in action, which is increasingly expanding in more parts of the world, and which I am proud to disseminate.
I have said it once and I'm going to say it again: I vindicate once again everything I have always claimed, every moment spent by pledging to diffuse the anarchist debate and every affinity, and I have no intention of stopping.
For the destruction of society;
may the fire reduce every tangible and non-tangible trace of it to ashes.
Long live anarchy!
Tomo, September 10th [16th], from my Nothing.