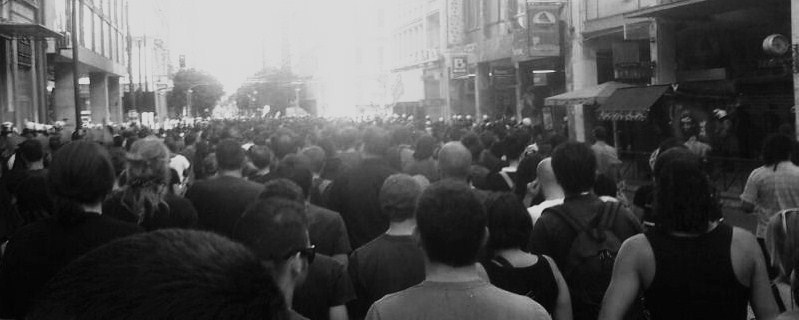 Around 2,500 people attended an antifascist demo in Athens last Saturday, September 1st. The meeting point for the demonstration was Monastiraki square at 5pm, from where the demonstrators marched onto the Athinas Street just before 6pm on their way across the main arteries of the city to Syntagma square. The idea of the demo was to arrive at the square to confront a group of 'autonomous' fascists, a Strasserist faction of the local nationalist circles, who practice the political strategy of entryism to lead dissident groups towards the neo-Nazi ways.
These groups plagiarize the virtual propaganda and terminology of the anarchist/anti-authoritarian movement so as to attract young converts to their cause. They present themselves as the 'antagonist pole' to the neo-Nazi party of Golden Dawn (Chrissi Avgi in Greek), in order to differentiate themselves from the parastatal stereotypes of the extreme-right that openly collaborate with the State services and security forces. Even though the rise of Golden Dawn has limited these groups' dynamic and influence within fascist circles, their danger must not be discounted, as they have previously managed to infiltrate large demonstrations during strikes.
However, last Saturday only a few dozen 'autonomous' nationalists made it to the occasion in Syntagma square, and they were well-protected by an enormous police presence. The cops had cut the streets off that lead to the area around Syntagma with police buses and a number of MAT anti-riot police squadrons – as well as backup from a helicopter that was flying low over the city centre – forcing the antifascists to halt the march at Omonia square before returning to Monastiraki square, where more than a thousand people stayed a few more hours to ensure that fascist groups could not disturb the gathering.
Despite the fact that the march did not reach Syntagma square, there was still no lack of direct action. As has been reported in Indymedia Athens, after the march, on various occasions, antifa groups located fascist gangs and beat them black and blue.