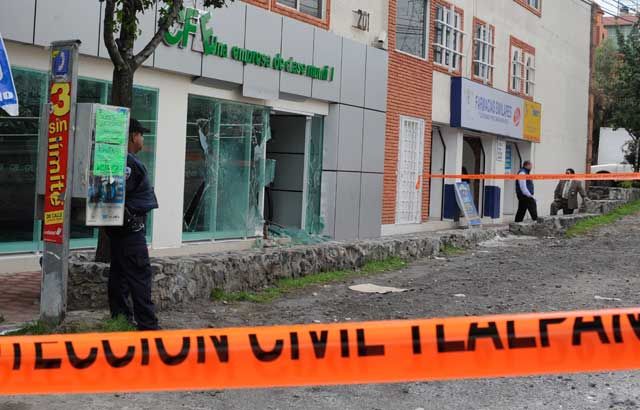 June 29th, 2012: Having been seriously injured with burns on his arm and leg by an accidental explosion from an incendiary device, the comrade is currently being treated in the Rubén Leñero General Hospital, in Mexico City. He has been given skin grafts on both his arm and leg, with a damaged artery forcing surgeons to operate quickly his leg to avoid, as a last 'resort', its amputation. The comrade is now conscious.
After the explosion of the incendiary device, the comrade was taken to the hospital under arrest. Since his entry to the hospital, at 5am on June 27th, he was cut off from the outside world, so he had no possibility of getting legal defense that wasn't the duty lawyer. A first witness statement was taken while he was not in a favourable physical or mental state, under the effects of anaesthesia after an operation, while being subjected to a lot of police pressure. It was not until June 28th, at more or less 4.30pm, that he had first contact with his lawyer. It remains to be seen if there will be a judicial review of his case, still assigned to the Public Ministry's Coy-2 agency, as he awaits a transfer to a Mexican Federal District prison in the following hours; it is unclear what the charges for his arrest are as they have varied each time clarifications were requested, which seems to indicate that they are trying to put together a case, with the most recent being criminal damage and attacks against public property. The comrade Mario testifies to be an anarchist but categorically denies being part of the '#yo soy 132' movement or the 'Tenochtitlán Salvation Front (FST)' mentioned in the Press.
We know they are trying to link a comrade, Felicity Ryder, and that the investigation is still open as they widen their search.*
We need to remain vigilant about the way Mario is treated in his current health condition, so that he is not transferred to a prison before he recuperates. Also, that the lawyers he has selected for his case be recognized by the authorities trying his case.
Lastly, we make a callout to the anarchist movement to join forces and demonstrate their support and solidarity with the comrade. For the moment it is necessary to redistribute counter-information about Mario's situation. Some days from the general election (July 1st), the comrade's case could be manipulated for electoral ends, but we know that his position is not only focused on the false democracy and the situation we are currently experiencing in Mexico. His posture goes further than that: he is an anarchist and consequently he is against all existent Power.
A solidarity gathering was called for last Friday, June 29th, at 3pm, outside the Colegio Militar metro station in support of Mario.
Total solidarity with Mario López and Felicity Ryder
Source: Anarchist Black Cross of Mexico via ke arrecie la tormentA
Follow also war on society and slackbastard for more updates in English.