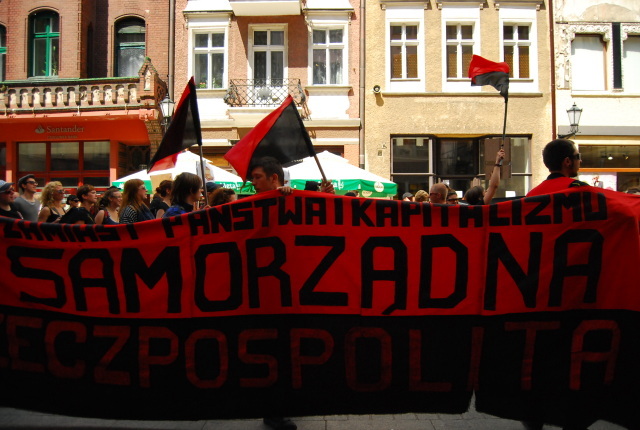 On May 26th a demonstration under the slogan "Enough of antisocial government policy" took place in Torun. The demonstrators marched through the city centre ending at the city council office. The demonstration that was attended by anarchists, trade unions and residents, gathered together about 150 people. The Rhythm of Resistance samba accompanied protesters and some city citizens – who warmly welcomed the demonstrators – joined the march.
The newspaper and flyers published for this occasion were highly appreciated. Some people assured us that these materials will be photocopied and distributed in their communities. The general impression of this day was very positive.
We got support from the residents. They were saying that finally someone is talking loudly about the problems which we have to deal with on a daily basis. Even slogans such as "government on the concrete, concrete on the government" met with a lively reception. We could feel that people are really sick and tired of the situation. During the march, trade unionists and residents activists gave some speeches, and while passing Empik* we recalled that the company has won the competition for the worst employer in Warsaw.
At the city council offices the authorities have been criticized for cutting social services and privatization of communal resources. An ex-soldier who joined the demonstration also gave a speech. After completing his mission in Afghanistan he was forgotten – he has become the victim of an unnecessary war and so-called "peacekeeping" missions which are continued by the Polish government despite the protests of the society. Now he even can't afford medicines.
Thank you all for coming, thanks especially to people from other cities. Solidarity is our weapon!
* Empik is a large company based in Poland with branches in all major cities.