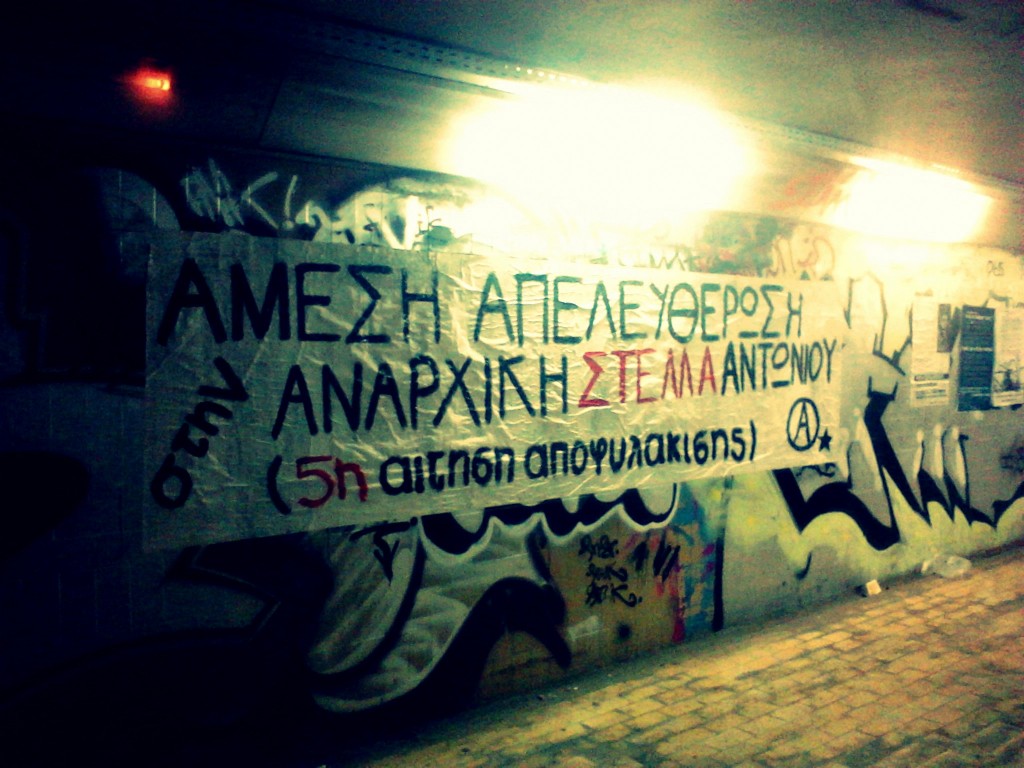 The anarchist Stella Antoniou has been in pre-trial detention for 16 months. She is accused of participation in the Revolutionary Organization Conspiracy of Cells of Fire. She was arrested in December 2010 along with the comrades Kostas Sakkas, Giorgos Karagiannidis and Alexandros Mitroussias, who are also in prison for the same case.
Stella refuses, as do the others, the rotten and bloated charges, which are constantly renewed with new prosecutions and based on their personal relationships and of course their political identities as anarchists.
Stella suffers from a severe illness which is continuously worsening due to her confinement, and for that reason she repeatedly files applications for release, which are denied one after the other.
However, she never ceased to struggle with courage inside prison…
She never refused that she stood in solidarity with a wanted comrade of hers…
SHE HAS THOUSANDS OF PAGES OF CASE FILE AGAINST HER…
SHE HAS THOUSANDS OF COMRADES WITH HER…
AND WE WILL TAKE HER BACK!
IMMEDIATE RELEASE OF STELLA ANTONIOU
FREEDOM TO KOSTAS SAKKAS, GIORGOS KARAGIANNIDIS, ALEXANDROS MITROUSSIAS
DEMONSTRATION – FRIDAY, 6-4/2012
SYNTAGMA, ATHENS, 6PM
Assembly of solidarity to imprisoned and prosecuted fighters
safa.espiv.net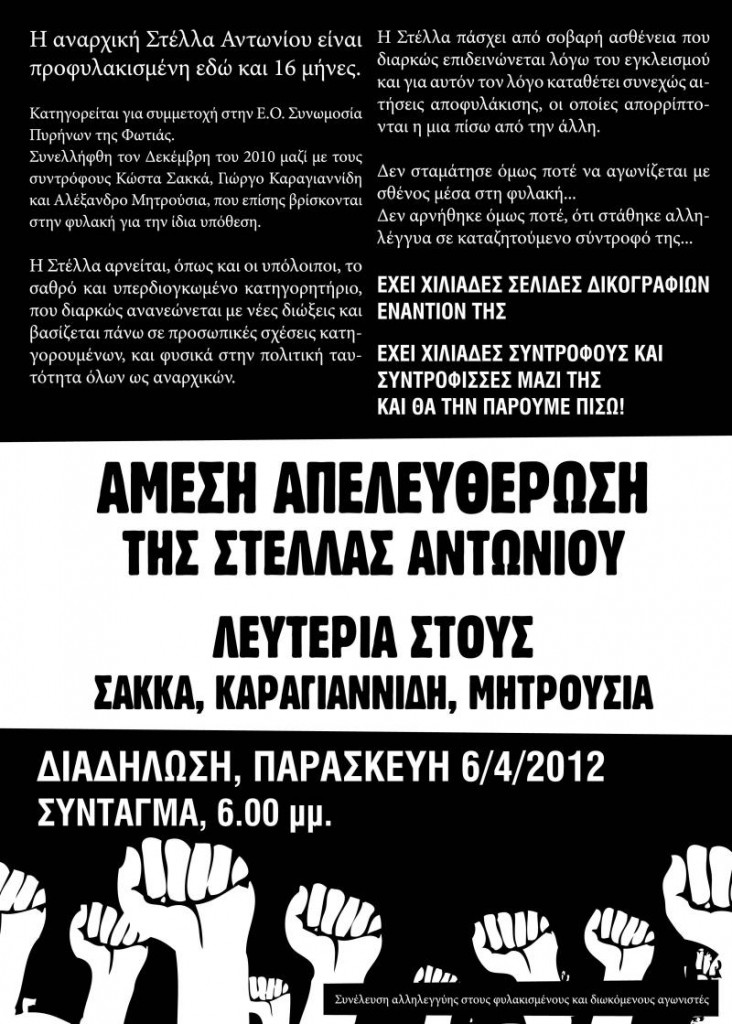 Because of the 5th in series application for release, filed for health reasons by the anarchist comrade Stella Antoniou, collectivities, squats, assemblies and individuals, in an open discussion in Athens decided upon the organizing of a march in solidarity, from Syntagma Square at 6pm on Friday, April 6th. At the same time they direct an open call to all collectivities for a nationwide day of actions in solidarity with Stella Antoniou (on the same day as the march). Already, related assemblies have taken place in the city of Thessaloniki.

We also translate and disseminate the call so that other comrades, wherever they are, may contribute to the solidarity which will be expressed on that day, demanding the immediate release of the anarchist Stella Antoniou.