As a token of our solidarity with the workers who had occupied the hospital in Kilkis (Greece) and self-administrated it since February 20th, 2012, we placed a banner outside the Greek embassy in Bern. Especially in times when the pressure on wage earners is rising worldwide, the repression is growing, and an increasing number of struggling workers are showing up everywhere, it is important to demonstrate reciprocal solidarity across all borders and to support each other.
Abolish capitalism, smash the State!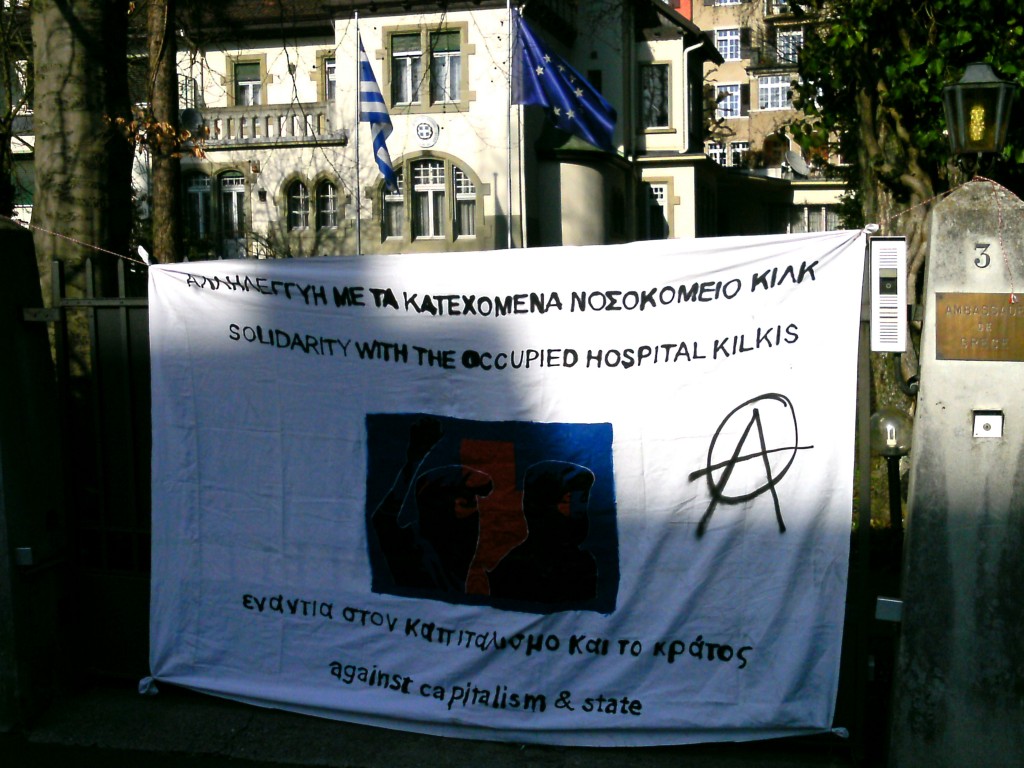 Note [May 2012]:
Kilkis hospital's occupation has been practically terminated. To our knowledge, there is no formal announcement about the suspension of the hospital's occupation by the workers themselves, but according to an article from March 9th, 2012 (on a Greek blog which we don't affiliate ourselves with), the occupation has been 'suspended'. But the struggle goes on. You may send your enquires at the Union of the Hospital Doctors in Kilkis, enosi.kilkis[at]yahoo.gr, to find out more about latest developments there. Also, the hospital's standard phone numbers should be operating as before. So, here they are: +30 23410 38400, +30 23410 25998, +30 23410 20400. Also, there is a recent video about the ongoing struggle at Kilkis hospital by diakoptes (in Greek only), where it is explained that by April 2012 the workers have suspended their working hours and now only serve hospital emergency incidents, until they are all fully repaid the salaries that the State owes them.