Second day of nationwide general strike
21.30 GMT+2 At least 10 police squads have chased people in Exarchia Square, Solomou and Stournari streets, fired tear gas and occupied the square. Armed police have also cordoned off the whole neighbourhood.
As expected, the new finance bill was ratified.
20.50 GMT+2 MPs' session is continued undisturbed. The entire area of Syntagma is utterly evacuated by riot police, with street traffic back to normal.
The total number of detainees/arrestees and injured protesters is yet unverified (but alternative media report almost 150 detentions so far).
20.15 GMT+2 People are encircled by police outside Acropolis metro station (several may have also been trapped inside). Mass detentions are reported at the spot.
Cops encircled Omonia metro stop and just attacked people inside the subway.
19.20 GMT+2 After the police raid in Monastiraki, people fled inside the metro station and locked the doors, in order to protect themselves from police fury. The police and persecutors have ordered the evacuation of the subway station.
Cops attacked protesters near the gates of Acropolis metro station where three detentions were reported; all three were set free thanks to the strong presence of people at the spot.
Cops are now chasing people through the streets in the nearby area of Thissio.
18.40 GMT+2 A 53-year-old man who participated in today's Athens demo, is deceased.
Confirmed information so far, according to the comrades of the free radio 98 FM who have contacted doctors:
– The deceased (alleged member of PAME) was hospitalized experiencing chest discomfort, atrial fibrillation and respiratory problems, and terminated due to a heart attack. It is confirmed that the 53-year-old carried no head injuries (as originally reported in corporate media, twitter, etc.). He probably died from inhaling an excessive amount of tear gas shot by the Greek police. Another likely reason would be tension during the strike, or even dehydration. However, only the findings of the doctors can give us enlightenment.
– This is NOT the same case of earlier rumours about a clinically dead protester —those were not true. The latter fell from a curb in Syntagma Square (he was never attacked by a stone). When he was offered first aid he was unconscious. He is elderly but NOT clinically deceased as the Power originally suggested for political reasons. In the past, political circles have spread rumours regarding dead people. The Power is ruthless.
Police attacked people in Monastiraki; also in front of the parliament while Syntagma square has been completely occupied by repressive forces for about an hour.
17.20 GMT+2 There are ongoing clashes between protesters and DIAS/DELTA motorcycle units in the alleys at the lower parts of Syntagma (in Ermou, Athinas, Monastiraki streets, among others). Few thousands have gathered in Syntagma, while more people try to gather in front of the parliament but are still blocked by cops at the side streets.
17.10 GMT+2 PAME have largely left Syntagma square, protected by cops all the way; police squads and motorcycle cops attack people indiscriminately in Panepistimiou and Trikoupi streets.
Cops have now taken over the guarding of the parliament. MPs' votes for the new Finance multi-bill will be submitted anytime soon.
17.00 GMT+2 Finally, PAME/KNE re-groups and prepares to leave from Amalias Street and Syntagma. Good riddance!

16.50 GMT+2 At least one new police unit in Filellinon Street at the back of protesters. Police chased people away from there. Strikers from Ermou, Mitropoleos, Filellinon and Stadiou streets were repeatedly trying to approach Syntagma Square and the parliament bordello. Demonstrators were once more pulled back by the PAME security forces!
Extensive use of tear gas and shock grenades by riot police; suffocating atmosphere in the area; people in numerous spots respond with stones and whatever they got.
Meanwhile, many injured protesters are being transferred to hospitals. False rumours regarding one clinically dead (!) demonstrator have been circulating across Athens spreading terror, but have officially been refuted.
16.30 GMT+2 Earlier in Rethymnon, on Crete Island, members of KNE threatened protesters with sticks, opposite the city hall.
In Mytilini, on Lesvos Island, the assembly of the occupied Periphery decided to end the occupation with an evening demo, in about one hour when strikers will march in the city streets.
16.20 GMT+2 Thousands of members of PAME are in front of the parliament. Police pulled back from the lower parts of Syntagma; smaller groups of anti-authoritarians, base unions and ultra left try to enter the square from the lower side; most union demonstrators still blocked in the side streets.
The ministry of Finance in Mitropoleos Street is under occupation from strikers.
16.10 GMT+2 Extensive use of tear gas now in Syntagma. Stalinists attacked demonstrators who tried to take the square.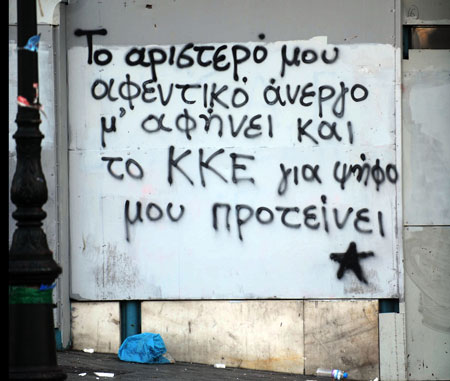 15.45 GMT+2 There are still demonstrators in Amalias Street, in front of the parliament, as well as in Fillelinon and Mitropoleos streets. The square is evacuated and encircled by cops, though. The Stalinists are still blocking access.
It must be clear that PAME and KNE are not communists. They are Stalinist snitches and ruffians who work for the regime. Today, they have handed more demonstrators to the police —as they have done in numerous cases in the past, i.e. back in 1998.
15.30 GMT+2 Full-on police attack to clear Syntagma. Large crowd pushed down Ermou Street.
A coordinated police raid along Pesmazoglou and Stadiou streets.
15.25 GMT+2 Clashes between anarchists and Stalinists mainly in Filellinon and Voukourestiou streets.
Generalized violence across much of Syntagma. More Molotovs and stones thrown at the Stalinist crowd. Earlier police attempted to enter the square from Stadiou and to trap anarchists.
15.20 GMT+2 Severe injured protesters (at least 20) are constantly being transferred to the medical centre of Syntagma Square. PAME/ΚΝΕ members seem to have direct contact with police officers and handed at least one (most probably anarchist) protester to the police. They also attacked insurrectionist demonstrators. Now protesters counterattack the cops and the scumbags of PAME/ΚΝΕ.
THERE'S AN URGENT NEED OF MORE PEOPLE IN SYNTAGMA!
15.00 GMT+2 Clashes are escalating in Syntagma; colours, stones and Molotov cocktails thrown into Stalinist crowd.
14.50 GMT+2 Members of the movement 'Den Plirono' (I won't pay!) first took a stance against PAME union's 'safeguard' near the Hotel Grande Bretagne. Then blocks of anti-authoritarians arrived, as well as the Anarchists' Assembly for Social Self-determination.

Clashes erupted as protesters tried to reach the parliament. A huge anarchist block attacked Stalinist lines. They are face to face by the Great Britain Hotel in Syntagma. Police fired tear gas. The clashes are severe; flares were shot straight into the crowd. Generalized clashes between hundreds of anarchists and Stalinists in Syntagma; stones, bottles and flares are thrown. Protesters tried to break through PAME lines to reach the parliament.
In Syntagma and along Panepistimiou Street members of PAME swear at rioters and have even beaten several up.
14.20 GMT+2 In Athens, six to seven detentions were reported in Klathmonos Square, near Dragatsaniou Street —at least three detainees are minors. At least one witness who called the free radio 98 FM but also tried to contact the Legal Aid team as well as the Athens police headquarters, testified that the cops had one or more bottles on them which they attempted to charged on the detainees.
At least seven more detentions by motorcycle cops were made in Athinas Street (near Monastiraki metro stop). Many passers-by were seen applauding the bastards cops there!
13.20 GMT+2 In Athens, once again the Stalinists of PAME union have lined up before the police squads and in front of the plexiglass-iron wall next to the side of the parliament, not allowing people to get anywhere close to them. Members of PAME, several with sticks and helmets, have even requested journalistic identities from protesters who express a growing discontent.
In Heraklion, on Crete Island, strikers made an intervention–blockage of the fast food chain store Goody's.
In Mytilini, on Lesvos Island, about 400 people participated in the demo. Upcoming actions will be decided during a general assembly in the occupied building of the Periphery.
13.10 GMT+2 In Thessaloniki, groups of demonstrators along with the Union of Waiters, Cooks and all Workers in the Food Industry blocked restaurants and cafés in Proxenou Koromila Street which were open despite the general strike. They moved to Iktinou Street for the same reason.
13.00 GMT+2 Patras had a quite disappointing demonstration of around 1,000 strong.
12.30 GMT+2 Workers in municipalities (POE-OTA) are applauded by other demonstrators as they reach Filellinon Street with direction towards Syntagma.
It has been reported that members of KNE, the youth wing of the 'Communist' Party of Greece (KKE), have attacked other demonstrators in the northwestern city of Ioannina.
12.20 GMT+2 A group of people who hold Greek flags moved from Ermou Street to Syntagma Square, unfolding their national rags at the Unknown Soldier Monument.
12.00 GMT+2 A police helicopter is flying above Exarchia. Small groups of plainclothes cops are spread all over the streets of downtown Athens. As was reported yesterday by various protesters, it is hard to differentiate these thugs from other demonstrators and is easy to get trapped, beaten and even detained.
11.40 GMT+2 The Stalinists of PAME are already in Syntagma. Comrades report that they line up holding sticks, in order to secure the reactionary character of their pathetic rally while they block other demonstrators to move on the sidewalk of the Unknown Soldier Monument in front of the parliament. At the moment there is no police presence (at least immediately visible). The Stalinists are about to play once more the role of the cops, in order to suppress any possible actions of insurgency.
11.20 GMT+2 In Athens the crowd is already thick in Propylaea and in Syntagma Square. Two central metro stops (Syntagma and Evangelismos) are once again closed. There's still the stink of tear gas from the day before. (In case of arrest, people should speak out loud their names to fellow protesters.)
10.30 GMT+2 Pre-gatherings for the second day of the nationwide general strike have already begun. Yesterday the strike mobilizations saw hundreds of thousands on the streets of numerous Greek cities (some estimates were as large as half a million in Athens alone). Yesterday, all 154 members of the ruling party of PASOK approved the new multi-bill of austerity measures introduced by the Finance minister Evangelos Venizelos.
Today, MPs will take a final vote in favour or against this bill which aims at the further deterioration of the lives of millions. The armed pigs of the democratic dictatorship, the collaborationist unionists, the corporate media and all types of fascists have been trying to suppress by any means the overflow of rage and an upcoming social revolt. It remains to be seen if people will manage to overcome fear and corporate propaganda, raising barricades of resistance and taking down the apparatus of the State and the Capital.