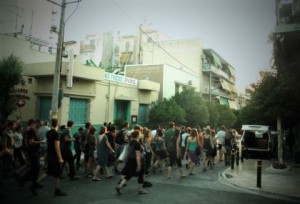 On Tuesday, July 5th, a demonstration of more than 150 people in solidarity with those arrested during the general strike demonstrations of June 28th–29th took place in Petralona, near the centre of Athens. The demonstration was called by the popular assembly of the neighbourhoods Petralona–Koukaki–Thissio.
Residents marched through many streets of Ano Petralona/Kato Petralona (the district is divided into two neighbourhoods by the metro line).
Militant slogans were chanted, such as:
'Everybody to the streets and squares – Popular assemblies in every neighbourhood'
'If we do not resist in all neighbourhoods, the cities we live in will become modern prisons'
'Kicks and punches to every judge – Justice is a matter of class'
'Solidarity is people's weapon – War against the bosses' war'
'Neither in Petralona, nor anywhere – Smash the fascists in every neighbourhood'
'Arm yourselves people – Now or never'
When the demo reached the local offices of the ruling party, PASOK, in Ious Street, demonstrators wrote slogans on the facade and defaced the sign with graffiti. A multiracial group of youngsters with bikes and skateboards were leading the rally.
A new popular assembly was held in the evening of Thursday, July 7th, outside Petralona metro station (from the side of the pedestrian street of Kato Petralona).
Sources: sinoikiesfilopappou.wordpress.com, athens.indymedia.org