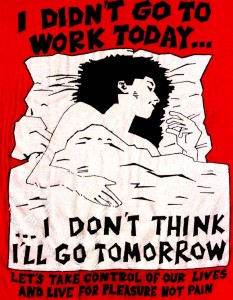 Some days ago, under the pretext of the crisis and of these festal days,the civil governor of the province of Attica (Athens) Sgouros, well-known henchman of the ruling party PASOK – and the president of E.S.A. (Athens Trade Association), illegally decided to keep the stores open on Sundays 12 and 19 of December (which means working two more Sundays in December, apart from the last one when stores are open), a plan, part of the general context of abolishing the leisure days and the working rights, that the local and european bosses systematically try to impose.
The workers' reaction was direct.
On Friday December 3rd, the Association of workers in the sector of book-paper of Attica held a gathering- intervention in the most commercial street of Athens, against opening of the stores on Sundays. The association of students of communication and media and other people in solidarity, also participated.
On Tuesday, 7 December, the association held an extraordinary general assembly, where they decided to take part in the 24-hour strike of Federation of greek Εmployees, and in the mobilizations of the trade unions against the abolition of Sunday leisure, so they programmed a gathering on Sunday 12/12 at 9am in Syntagma square to impose the closing of the market!
The workers in public transports, showing comradely solidarity, they decided to go on a new round of mobilizations with a strike on Sunday from 10am until 4pm – which is the time that the stores were programmed to open- but also the time when two Greek ministries had programmed some events on Panepistimiou street. This morning, the Country's Council, issued an order to keep stores closed on Sunday 12/12, after the postponement of the ministries' festal events due to the strike in the public transports – the consumers wouldn't be able to reach the area. The E.S.A. need to redefine their attitude after the last march of events.
It is obvious that this decision of the Country's Council is a victory of the working people, who fought with solidarity and coordination ,and ruined the bosses' plans.