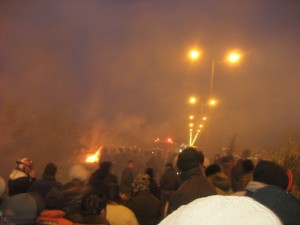 Early in the morning of Saturday Dec.11th the vehicles of a heavy-machinery company in charge of the construction project of a landfill in the region of Keratea (Attica-Greece), reached the location of Ovriokastro, in order to start the construction of a landfill. A strong police force was there as well to ensure the unhindered entry of the operations.
At 03:30 in the morning, building work in close cooperation with riot police forces appeared in the region, hoping to catch the people of the region asleep. However, it became immediately apparent, and large crowds, despite the adverse weather conditions, occupied the region in order to prevent, and ultimately stop the project.
It is worth noting that according to the law, the construction of landfills in the region is illegal and has been declared an archaeological and a landscape of great natural beauty.
Soon after, locals and riot police clashed beating residents and making excessive use of tear gas.
Immediately after the morning clashes both MAT (riot police) and residents remained in the area. The primary to facilitate traffic of heavy machinery, and the later to prevent it.
At noon on Sunday, conflicts broke out again between the angry crowd and riot police. The police attacked with fury the assembled people, while the dogs of power did not hesitate to attack the elderly and young children. People tried to defend themselves by whatever means. The police brutality was answered by the massive crowd with stones, slingshots, and many Molotov cocktails. The clashes extended to neighboring fields. Residents took municipal vehicles and blocked the highway leading to the point so no new forces of riot police could reach after the first units could not cope with the situation. This caused the police cranes to only be able to remove these vehicles after many units were used to defend the cranes in multiples of the protesters who opted to retreat to avoid unnecessary injuries and arrests. The fighting continued all night, mainly off road, in wooded areas, with mud and steady rain.
Clashes continue until today, Monday, December 13th. Almost all schools of Keratea and surrounding municipalities are under occupation as an indication of active solidarity, since many students participated in the protests and conflict.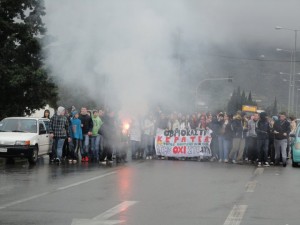 Despite the decision taken by the court for a temporary cessation of work, the provocative repression forces didn't leave the area so the clashes were rekindled. Residents attacked MAT (riot police) which today and all these days attacked and brutally beat people. There were melee fights between residents and cops, while a police bus was burned down by molotov cocktails. Today, cops arrested 5 residents.
It is estimated that more than 50 people were injured and several arrests were made.
There will be more updates of the situation.
http://www.youtube.com/watch?v=0PrQ7kLdCsE&feature=player_embedded
more videos here.