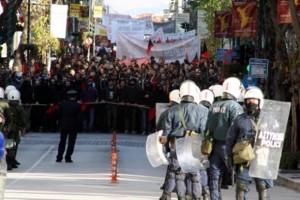 trial of 11 minors accused with the anti-terrorism law
On December 9th the trial of 11 underage students, accused with the anti-terrorism law for setting up a criminal association because they participated in the uprising of December 2008, takes place in Larissa.
On November 27th, a nationwide demonstration against anti-terrorist law took place in Larissa. Around 2000 people coming from all over Greece marched on the central streets of Larissa shouting anti-repression slogans and demanding the abolition of the anti-terrorist law and the acquittal of all those arrested. The dynamic pulse of the demo and the number of demonstrators was unusual for the city. Several cops and secret cops were spread in the city without any incident to be noted.
***
trial of 4 students accused for supermarket expropriation without evidence
On December 1st the trial of 4 young students, who were arrested at a bus stop as suspects because of their external appearance with the unique element that they were traced near the public market where the products were shared after a supermarket expropriation in Larissa on 11/2/2009, was scheduled to take place in the same city.


One of the 4 accused explains in an interview that the prosecution is political and vindictive because the 4 persons are involved in the student movement, the anti-racist movement, participating in collectives and solidarity actions and they have been targeted several times by the state and the para-state of the city.
On the day of the trial, a solidarity gathering of many people took place outside the courts, while the cops that guarded the place were numerous. The trial was postponed for the June 1st in 2011.