How much longer will we tolerate these bastards to be in charge in our neighborhoods with their racist, chauvinistic and sadist behaviors leading to deaths (as in Aghios Panteleimonas police station) and serious wounds?
Of course, these bastards are turned only against the weak people, those who don't have anything to eat in order to stand up on their own feet and turn against these bastards, but we will stop them.
43-year-old Jan Ali Mersai, from Afghanistan, claims that was beaten brutally and is ready to lodge a complaint against the police officers of Peristeri police station.
According to his charges, last Tuesday he was arrested from the crew of a police car, with his 2,5 years old child, outside Lidl super market of Peristeri.
The Afghan refugee, who is now three years in Greece, with his wife and 4 of his 5 children, although he has tried repeatedly, he has failed to deliver his application for asylum at the "department of foreigners" at Petrou Ralli. Lately, he was ensuring basic livelihood by transferring the abandoned carts at the entrance of the store and taking the payments, with the tacit -as he states- consent of the director of the store.
Everything started when a customer insulted him and then the police car came and took him to Peristeri police station.
There, as he states, they separated him from his child and led him into a room, where initially four cops and later two more , started hitting him with punches and kicks, using batons and metal rod, all over his body until he lost his senses. As he says, he recovered when they threw water on his face and told him to get his child and leave.
Later, he returned to his house, a basement in Attica square, and the next day, when he got up, he realised he couldn't stand up on his feet. He was transported by ambulance to "Evangelismos" hospital, where they provided first aid and medical checks and the same evening they gave him discharge.
The scars of abuse are obvious all over his body and specially on his face, his left shoulder and arm, the ribs and the left thigh.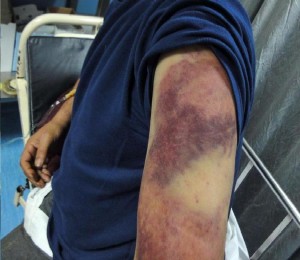 On Friday 19th of November, a solidarity gathering took place outside of Bournazi police station because there was lack of information about the police station that was responsible for these tortures. Nevertheless, 70 people gathered there shouting slogans, giving the first answer to the new crime of Democracy in our neighborhoods.
in greek: http://athens.indymedia.org/front.php3?lang=el&article_id=1226201