HANDS OFF THE LELAS KARAGIANNI 37 SQUAT (ATHENS)

In a period of intensification of social and class antagonism due to the generalized attack of state and capital on even the most elementary interests and rights of the workers the unemployed and the youth, and during the attempt to raise social and political defenses, repression is intensified by targeting, threatening and attacking people in struggle and spaces of struggle.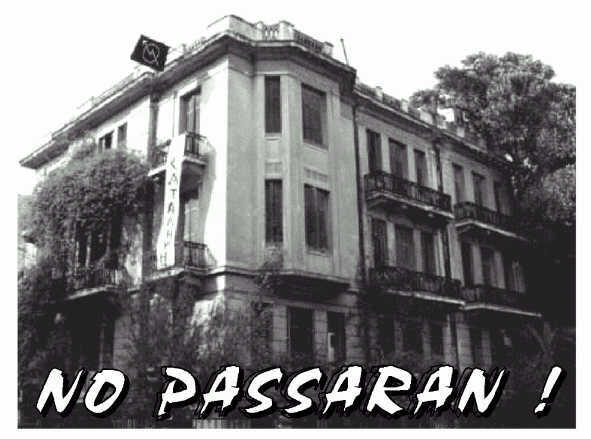 On the night of July 8th at 2 a.m., only a few hours before the general strike demonstration some heavy police units surrounded without any obvious pretext the occupied building of 37, Lelas Karagianni Street in the Athens neighbourhood of Kipseli – and blocked off the surrounding streets. The Occupation was put under a condition of siege, threatened for many hours with a police raid, while an order had been issued for the arrest of anyone who would attempt to exit or enter the occupied building. Police checked and even detained many passers-by, neighbours or others who just happened to be in the streets around the occupation.
Finally the tight siege ended with the withdrawal of the police forces at 5 a.m., as suddenly as it had started.
Regardless of the undeclared targets and planning of this police operation, the fact is that yet another space of struggle and yet another group of people in struggle was targeted by state repression and terrorism. An occupation which during its entire 22 years always stood steadily within the ranks of the wider anarchist/anti-authoritarian struggle and always on the side of all the social-class struggles of the exploited and repressed people.
For this reason the night-time repressive operation of July 8th against this particular occupation had some wider targets and comprises part of the wider state repression aiming at terrorizing and attacking anti-authoritarian struggle and more widely, the social struggles of our time.
And even if this particular repressive operation folded it nevertheless showed the aggressive tendencies and the terrorizing methods employed by the state against the self-organized nuclei of struggle, such as occupations, which during this period are particularly important and useful in their support and contribution to the development of collective resistances, both on a more central level as much as in the neighbourhoods of the city.
It is for this reason that despite the very late time [at which the attack against the occupation was launched] there was an enormous struggle interest and tens of comrades were mobilized, expressing their solidarity availability to the besieged occupation on the night of July 8th.
TERRORISM SHALL NOT PASS – HANDS OFF THE OCCUPATIONS
AGAINST STATE AND CAPITALIST BARBARITY, LET'S PREMISE SELF-ORGANIZATION, SOLIDARITY AND OUR COLLECTIVE RESISTANCES
Lelas Karagianni 37 Squat

Friday July 9th, 2010