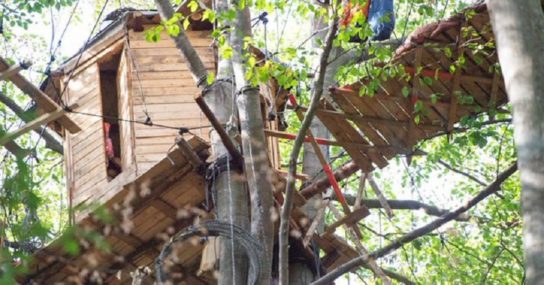 19.09.18
"A friend who has accompanied us as a journalist for a long time in the forest, fell today from a suspension bridge over 20 meters high in Beechtown and died. At that time police and RWE tried to evict the tree house village. The SEK was in the process of arresting an activist near the suspension bridge. Our friend was apparently on the way there when he fell.
We are deeply shaken. All our thoughts and desires are with him. Our compassion goes to all the relatives, friends and people who feel concerned.
We urge the police and RWE to leave the forest immediately and stop this dangerous operation. No further lives may be endangered.
What is needed now is a moment of rest.
Even if this is difficult for you at the moment, just as it is difficult for us to give such a factual hint: We recommend, in order to protect all activists, do not give any statements, nor even make any testimonies at the police. The accident must and will be reappraised, but the police are not the place to do that. Their interest is to blame activists."
Update: The deceased was a photographer and longtime friend of the occupants ande he was doing a report on the eviction of tree houses. He fell on his back from a height of about 20 meters, not having resisted his injuries. The police invasion is over for now.
More information: https://hambacherforst.org
in spanish l portuguese