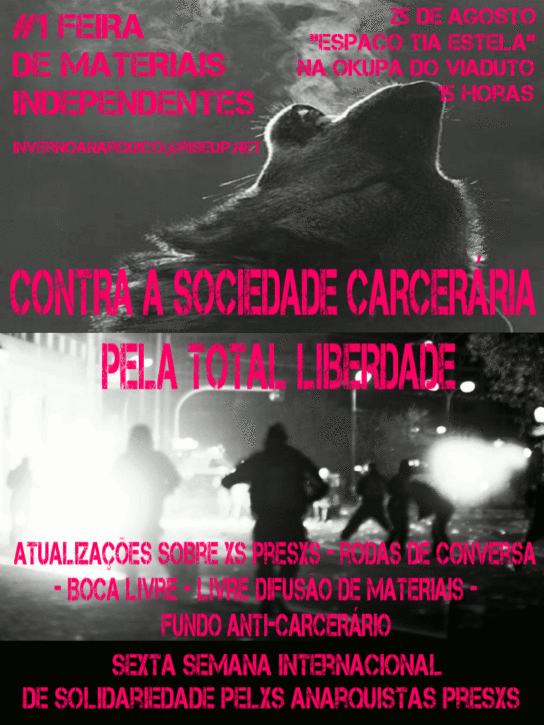 received 18.07.18

CALL FOR AN INDEPENDENT MATERIALS FAIR – ACTIVITY OF THE SIXTH
INTERNATIONAL WEEK FOR ANARCHISTS PRISONERS
In response to the call for a "Sixth International Week in Solidarity For Anarchist Prisoners," which will take place all over the world from the 23rd to the 30th of August, there will be a first winter fair of independent materials on August 25th.
This is an open call for anyone who wants to send us proposals with an anti authoritarian focus to add to the activity. In addition, it is mainly an invitation to participate in this initiative that will happen in the "Tia Estela Space" , a squat of homeless people located underneath the so-called "Alcântara Machado Bridge" in São Paulo. Any contribution to self-management of this space is welcome.
The struggle for freedom is impossible without fighting against prisons.These disgusting spaces are surrounded by walls, violent forms of control, security devices and constant vigilance. Without such a structure it would be impossible for any state or any government to remain in power. It is necessary to see prison not only as the main tool of domination against the subversive people who prefer war to the passivity of the masses, but also as a laboratory of the system and one of the main means to perpetuate slavery and work.
A battle was lost but even behind the bars the struggle goes on. Within jail, in a contained and continuous way, are the conflicts against the juridical apparatuses of the nation states and all moralistic society that supports it. This reality prolongs the journey towards the destruction of civilization, the predatory machines of cybernetic and industrial world, all the grids, walls and borders that slaughter life on earth.
For these and much more, it is a lot necessary to support the anarchist prisoners, to not leave them alone and with this, to turn our eyes upon the pillars that give shape to the enemy.
"To live anarchy contains the risk of ending in prison" – Marco, Alexandria prison.
A full schedule will be available on August 23rd.
Send a message, send a contribution!
Anarchic Winter
invernoanarquico@riseup.net
in portuguese