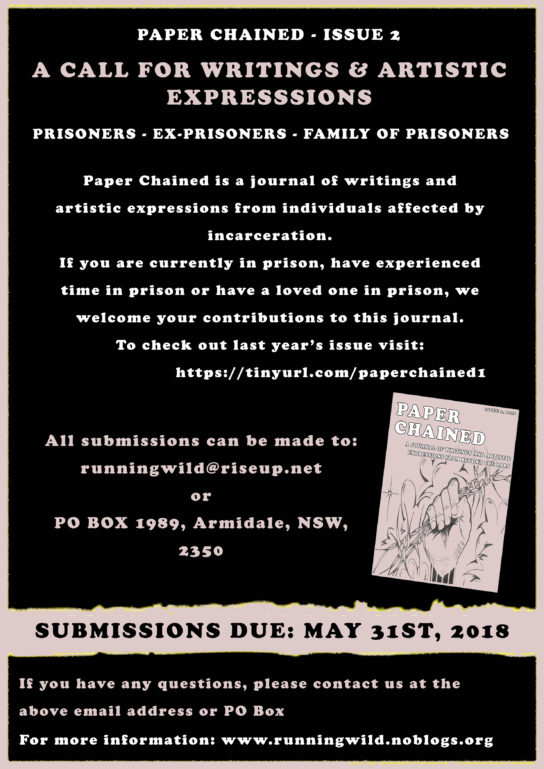 received 6/24/18
Submissions for the second issue of Paper Chained are due to close a week from today, so we'd appreciate some help getting reminders out to all communities and individuals who may be interested in writing in.Please make it clear that if anyone would like to submit but won't havea contribution ready by next week, we are more than willing to acceptlate submissions, especially if people get in touch and let us know whenthey'll be able to send something in. We primarily welcome contributions from prisoners, ex-prisoners, and family of prisoners, but we are also open to contributions from people who have been affected by the justice
system, including short stays in jail, or court proceedings.
ABOUT THE JOURNAL
Paper Chained is a journal of writings and artistic expressions from people affected by incarceration, usually people who are in prison, are ex-prisoners or who have family or loved ones in prison. It aims to give these people a voice, to show them they are not alone, and to demonstrate to the wider public the humanity of those locked up in prison.
We have attached a poster calling for contributions, you are welcome to share this online and display it at your workplace and/or distribute to members of your community. You can also read more about the journal at our website: http://runningwild.noblogs.org/ and find links here to the first issue, published in 2017.
Please feel free to get in touch if you have any questions.
We appreciate your support,
Running Wild Collective