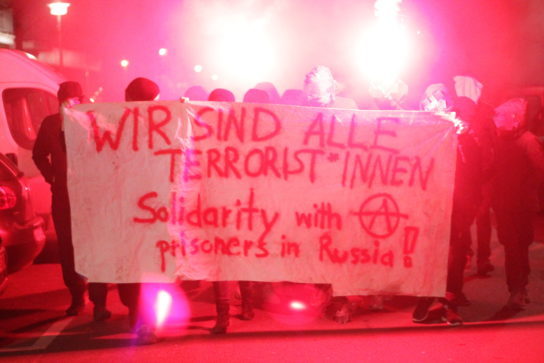 received on 15.02.18
From Rigaer Street, we send signs of solidarity and rage to anarchist prisoners in Russia, responding to the call from Russia for International Days of Solidarity with Russian Anarchist Political Prisoners.
These days we heard from the arrests of antifascists and anarchists in Russia. Already before, in the months of October and November 2017, in the city of Penza, six people got arrested and brutally tortured by the federal secret service FSB. In January this year, in the city of St. Petersburg, a second wave of arrests followed with two persons first being kidnapped by the FSB for one day and only the day after being officially registered in remand prison. The secret services' offensive, led by Putins regime, was accompanied by house raids in different cities of the country. As a reason for the repression the FSB constructed an anarchist terrorist group, named "Net", planning a series of attacks on the presidential elections in March 2018 as well as on the World Cup in June / July 2018 in Russia leading to armed insurrection and which is supposed to exist in several cities of Russia and Belarus. There is no evidence proofing the real existence of the group. The only evidences used are the statements of the arrested, which the FSB extorted from the prisoners using torture and the threat of further acts of torture. In Penza, the group got constructed by the statements of the first arrested person. The link between the "members" of the group is having played airsoft games together. Except of this first person, who got released beginning of the year into house arrest, all the others are still kept in the remand prison.
The experiences of intimidation and physical violence in the remand prison which the prisoners were subjected to, reveal the cruelty of the state apparatus. While democracy in Germany is still trying to veil the brutality of state power, the accounts from Russia affirm us, that the watchdogs of the system – the wretched trash of the executive – are capable of maintaining their authority only by the threat and implementation of physical violence.
Repression is meant to discourage us, to defeat movements and strain us individually into the controlled system or even destroy us. It's anything but easy to not feel powerless, to not feel incapable of opposing their massivity. But if we listen to the messages of rage and anarchist struggle from exactly these places, the lines and images encourage us. They show us, that in every place where there is a human heart beating to the rhythm of rebellion, moments of resistance are likely to occur. They show us, that no matter how fierce the repression may be, there will be people who do not surrender to fight for their ideas. The resonance of solidarity is our weapon.
From the G20-prisoners in Hamburg to the prisoners in Penza or St. Petersburg to Berlin – the stronger their repression, the more furious and passionate our resistance.
Info about the current situation:
avtonom.org and abc-belarus
via Rigaer 94 l German l Portuguese