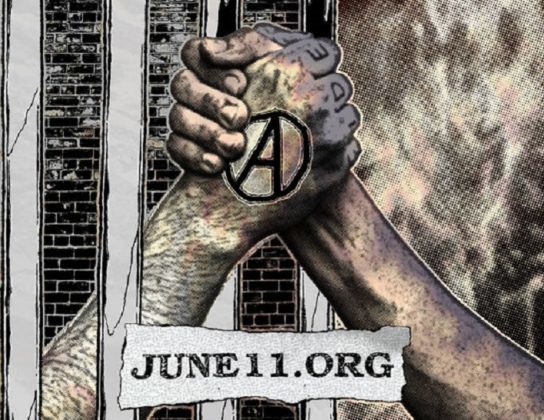 Over the years, June 11th Day Of Solidarity with Marius Mason and All Long-Term Anarchist Prisoners has supported and highlighted dozens of prisoners. More recently we have been trying to include more prisoners from outside the U.S. to avoid falling into the easy path of U.S-centrism and to more faithfully represent the rich, expansive anarchist and anti-authoritarian struggles across the globe. (You can find out more at june11.org).
It is with this in mind that we are asking for your help to translate and spread this short message.
We know there are many prisoners whose stories have not made it to us, or with whom it has been difficult to establish contact. While June 11th focuses on anarchist and long-term prisoners, these are not strict qualities. We are eager to support anti-authoritarian prisoners of many stripes and from many struggles. June 11th aims to keep on our lips the names of comrades who are locked away from many years, long after many have otherwise drifted into the background as there are always new struggles, new emergencies, and more friends being targeted by the state. We generally use about a ten year sentence as a bench mark, but are currently supporting some prisoners who are serving 6 or 7. We don't make this distinction to diminish the experience of comrades being removed from their communities and tortured for fewer years, but as an acknowledgement that more has to be done to sustain support and solidarity for those who will be locked up through many cycles of struggle.
We are asking you to get in touch with us if you know prisoners who would be a good fit and would like to be included with June 11th. When possible, we desire a dialogue with supporters so we can more deeply explore how we can support them and keep their voices in our activities.
Please help us to translate and disseminate this message as far as possible. We want to hear from you: june11th@riseup.net
Yours in Struggle,
June 11th Committee
In Italian / Portuguese / German