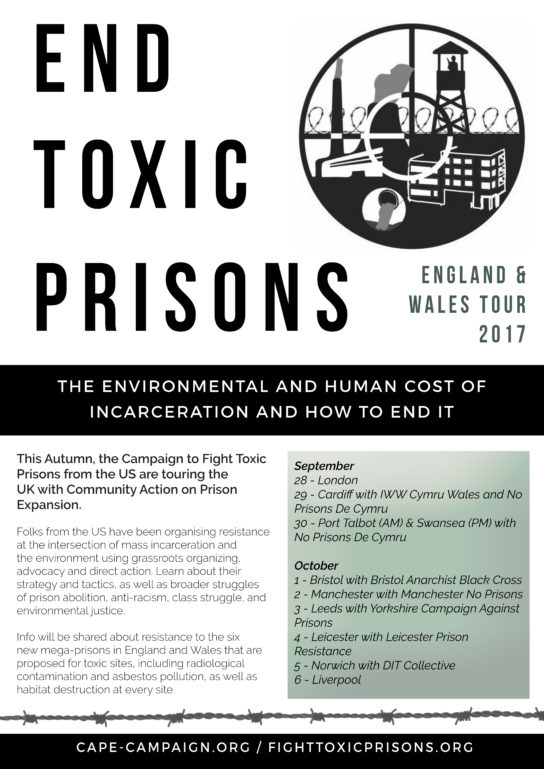 received 09/24/17
Tour Details
Thursday 28th September
London
7pm, 125 Caledonian Road, London, N1 9RG
Friday 29th September
Cardiff
With IWW Cymru Wales and No Prisons De Cymru
Connect International English Academy, First Floor, 26-28 Churchill Way, CF10 2DY Cardiff
Saturday 30th September
Port Talbot
10.30am, Aberavon Beach Hotel, The Princess Margaret Way, Swansea Bay, Port Talbot, SA12 6QP
Swansea
With No Prisons De Cymru
7pm, Swansea Environment Centre, SA1 1RY
Sunday 1st October
Bristol
With Bristol Anarchist Black Cross
7pm, Kebele, 14 Robertson Road, Bristol, BS5 6JZ
Monday 2nd October
Manchester
With Manchester No Prisons
11am, Partisan Collective, 19 Cheetham Hill Road, M4 4FY Manchester,
Tuesday 3rd October
Leeds
With Yorkshire Campaign Against Prisons
Wharf Chambers, 23-25 Wharf St, Leeds LS2 7EQ
Wednesday 4th October
Leicester
With Leicester Prison Resistance
Venue TBA
Thursday 5th October
Norwich
With DIT Collective
Space Studio, Swan Lane, Norwich, NR2 1HZ
Friday 6th October
Liverpool
Venue TBA
This Autumn, the Campaign to Fight Toxic Prisons from the US will be touring the UK with Community Action on Prison Expansion.
All over the world prisons are toxic environments causing social and ecological harm. Folks from the US have been organising resistance at the intersection of mass incarceration and the environment, successfully delaying the only current Federal prison construction for over 2 years!
Through grassroots organizing, advocacy and direct action they have been challenging the prison system which is putting prisoners at risk of dangerous environmental conditions, as well as impacting surrounding communities and ecosystems by their construction and operation. Learn about their strategy and tactics, as well as broader struggles of prison abolition, anti-racism, and environmental justice.
Information will then be shared about resistance to the six new mega-prisons in England and Wales, which themselves are proposed for toxic sites, including radiological contamination and asbestos pollution, as well as habitat destruction at every site. Learn how you can get involved!
Learn more:
Check out a recent article we wrote: Fight Toxic Prions: Mass Incarceration and Ecology – http://www.prisonabolition.org/fighting-toxic-prisons-mass-incarceration-ecology
Campaign to Fight Toxic Prisons – fighttoxicprisons.org
Community Action on Prison Expansion – cape-campaign.org
Empty Cages Collective – prisonabolition.org
Empty Cages Collective