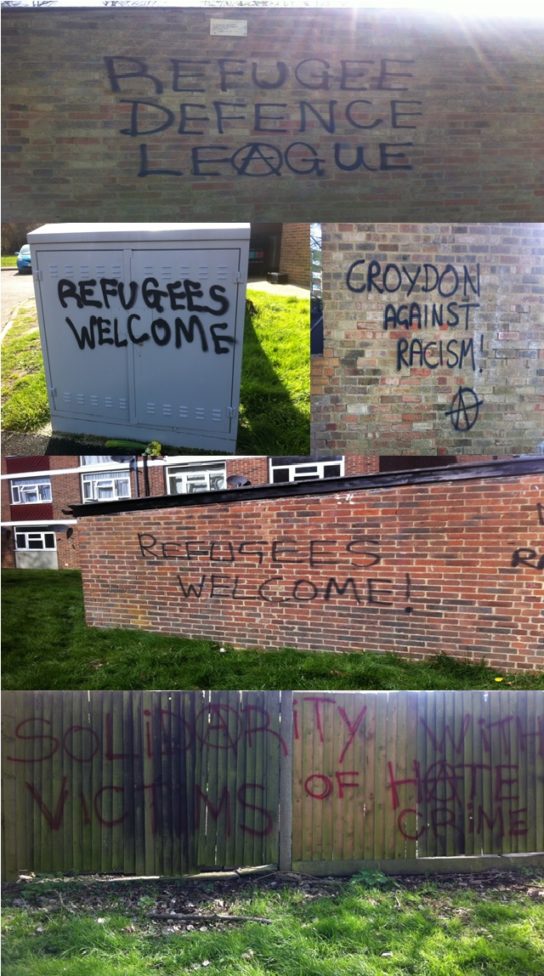 On 31st March, a young boy, Reker Ahmed, was brutally beaten by a gang in the area of Croydon whilst waiting for a bus. The gang (of almost 25) approached the boy and after asking where he was from, chased him and attacked him, leaving him with life-threatening injuries. He was only 17 years old and currently applying for asylum in the UK. This attack occurred on the Shrublands Estate, in Shirley, a diverse working-class area and its significance was felt by the local community.
In response to this racist and xenophobic violence, we chose to decorate the neighbourhood with our outrage. In offering a message of solidarity here, we demonstrate our solidarity everywhere; from the U.S to Greece, from Belarus to the Middle East; for all victims of the State, of the border regime and for all victims of hate crime.
We carried out this action as a clear message from the community, but also as a message to the perpetrators. At the time, we were still unsure as to whether this was an attack carried out by people from within the estate, as it would be unlikely and unheard of in such a diverse, close community. However, sadly, the gang consisted of people from many backgrounds. It is the true that nationalism blurs the truth of oppressive class and racial hierarchies and has us identify with our own oppression. However, the response has to our action has revealed exactly what we also suspected; that this was an attack endorsed by self-identifying FASCISTS from likely within the area.
The media coverage of this event described the incident as an 'alleged hate crime' and has thus far refrained from describing the incident as explicitly fascist. However, Nazi graffiti was painted and we see this as clear evidence that the attack was not a random case of mob violence; but a held a targeted and politically understood motive of hatred towards migrants. (We have since covered and subverted this fascist graffiti: seen below.)
LET US BE CLEAR:
-We will not stand by as migrants are scapegoated and brutalised, encouraged by the fascist rhetoric of governments and their right-wing media vanguard.
-We will not allow immigration enforcement to abduct people from our communities and sentence them to deportation and death.
– We will certainly not be intimidated in the face of Brexit Britain and the toxic resurgence of far-right politics.
– We shall respond duly to all of these threats and the violence they inflict on our communities.
WHY?
It is perhaps no coincidence that the attack took place the night before Britain First hosted a pathetic, tiny far-right rally in the heart of Central London. Most anti-fascists and other discerning political types understand that the far-right in the UK is currently fractured and disorganised, but Brexit is a historical force that carries the possibility of an emboldened fascist presence on our streets.
It is thus an urgent necessity that we EDUCATE ourselves, PREPARE ourselves and begin ORGANISING within our communities using dialogue and action. We must empower ourselves to challenge and disrupt the logic of oppression wherever it rears its many heads; from the hydra of the State to the long neck of fascism, we are not afraid and we will continue fighting.
Croydon is vibrant, Croydon is migrant, Croydon is strong.
To the fascists in Shrubland: YOU ARE IN THE WRONG NEIGHBOURHOOD. KEEP HIDING.
To everyone else: THEY ARE AFRAID. LET'S KEEP IT THAT WAY.
JUSTICE FOR REKER AHMED.
SOLIDARITY WITH THE INTERNATIONAL STRUGGLE AGAINST FASCISM!!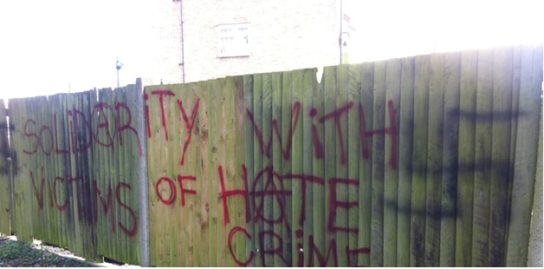 in German