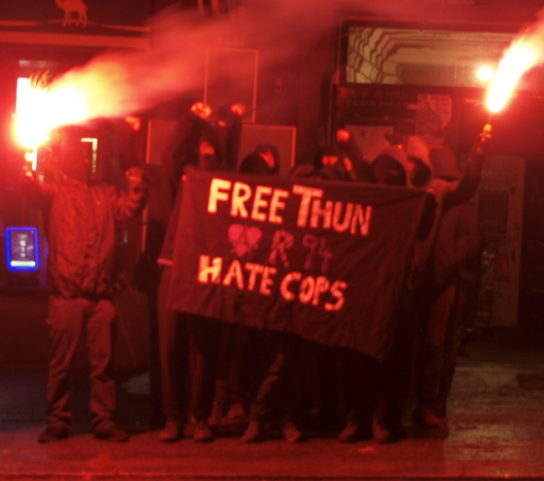 We are sending greetings of solidarity from Vienna/Austria to Thunfisch, who was arrested on November 21st 2016 in relation to the protests in solidarity with R94 on July 7th. She is beeing held captive since November 29th in the women prison JVA Lichtenberg in Berlin.
On Saturday, 4th of February we gathered in order to show a gesture of solidarity. For this we made a picture with a banner, that says "Free Thun – Love R94 – Hate Cops".
The action happened relating to an event for anarchist prisoners. It was an evening of information about repression and a party to support anarchists financially, that are having trials at the moment. With the label "Feierabendsoli" it was already the second event like this for anarchist solidarity. The event also aimed at showing that there are other forms of actions in solidarity than simply visiting a benefit party.
Therefore we used this evening to support our comrade Thunfisch.
We send strength and power of endurance to her and to all our comrades in prison!
Fire to all prisons!
Freedom for all prisoners!
in German