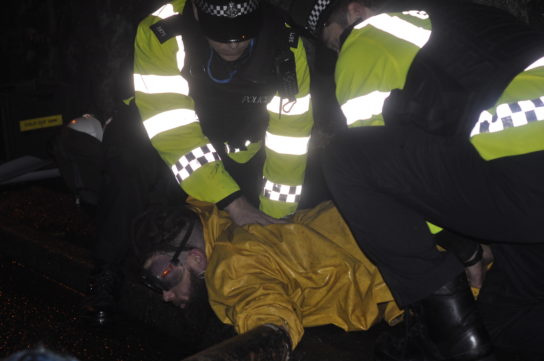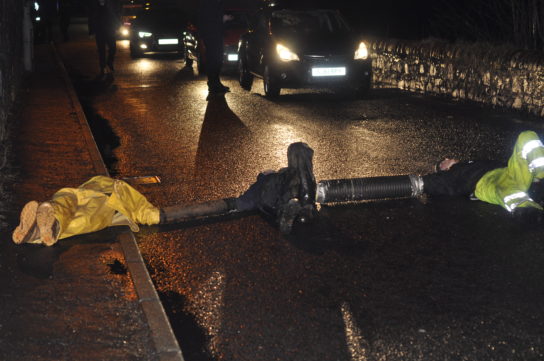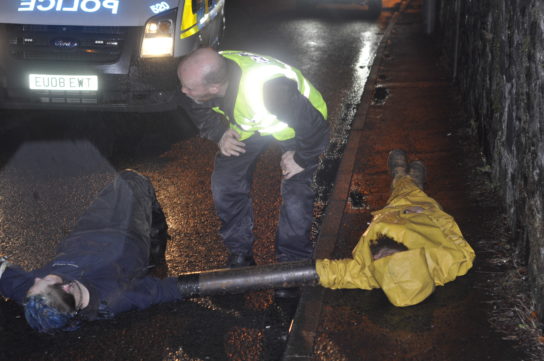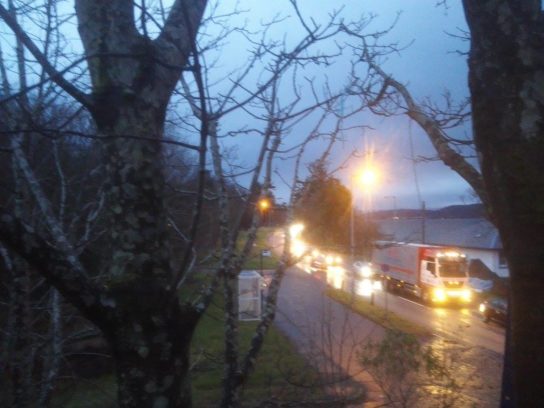 received February 2nd 2017

No freedom of movement for WMD minions
On 2nd of February, starting 06.30 AM, five anti-nuclear activists blocked the pleasantly busy morning traffic at the south gate of Her Majesty's Naval Base Clyde (yes, they're still having this monarchy thing going on) in Faslane, Scotland. South Gate is one of the two main entrances to the base and open under a certain schedule: it doesn't take all that much to clog up their routines. Base staff did its best to direct the traffic to the North Gate, but soon enough the tailback stretched from the North Gate to a distance of over two miles: we climbed on our caravan roofs and tried to cycle down the line to see the end of the traffic jam, but no chance.
"I can't believe we still have to protest this shit! It's a cliché, but true! The struggle against nuke weapons should be as out of fashion as other 80's monstrosities, but now with the likes of President Trump or Prime Minister Theresa May it seems we're headed towards a new arms race", says activist Molly Garfield. "May has stated 'I think we should defend our country, I think we should play our role in NATO with an independent nuclear deterrent', so there you go. Nationalism, militarism, WMD's. Down with all that, I say."
The lock-on crew was accompanied by three legal supporters and a photographer. The Ministry of Defence police arrived to the scene in some 20 minutes. Around here, the legal supporters are supposed to have the right to snap photos, feed bananas to protestor's and observe that the cops at least try to behave. This time MoD's were having a rotten day. PC 470 (they just like to be identified, don't they?) tried to bully the photographer off by threatening to "smash that camera if you don't stop taking photos", while other simply pushed two observers some 20 metres away, well behind a barrier of uniforms.
Not that we would've minded much. We were busy being amused by their continuous mishaps. At 07:00 AM, the hobby level cutting team from the base arrived, asking for the suitable camera equipment: only to find out their colleagues couldn't find any. Next thing you knew was that they've managed to get a bolt cutter stuck on somebody's lock-on, unable to continue. Thus, the traffic jam kept building up and road was nowhere close to get cleared before they managed to bring in the actual cutting team. On their arrival, the photographer was also tossed from the scene and view to locked-on activists blocked with police vehicles.
By 09.20 AM all five activists were arrested and transported to the nearest cop shop. The South Gate was closed for approximately two and a half hours. The action was conducted by hippies from the nearby Faslane Peace Camp: thanks for support, one struggle!
"On times when taking a stand or expressing one's opinions gets you ridiculed, labelled as a terrorist or lectured how protesting of any sort is futile, do the bloody opposite. Faslane Peace Camp is rolling on to its 35th year, but seemingly the world leaders and arm dealers are not allowing it to retire any time soon. You could imagine that a nuke sub base would a tricky or dangerous location, but this seems more like a sitting duck for anyone up for a little direct action", Roxy Newton, another activist, emphasises.
The action is the second protest to take place within a short time. Both sparked by the revelation of the Royal Navy misfiring of a Trident II D5 ballistic missile from the HMS Vengeance last June and questions surrounding the cover-up of the test results and general madness of nuke weapons. Activists were also keen to express their solidarity with the Put Down the Sword crew who've ably demonstrated that for all the hyperbole espoused by polemic, self-professed Christians, the "Thou Shalt Not Kill" ethos remains the central tenet.
The Faslane Peace Camp is a permanent protest camp dedicated to campaigning and protesting against nuclear weapons and related madness since 1982. The camp, located next to the HMNB Clyde, is celebrating its 35th Anniversary this year, and it's welcoming all interested individuals to participate the fun and games available. No racism, no homophobia, no sexism: just direct action.
e-mail contact: faslanepeacecamp@protonmail.com
in German