Below is a statement that longterm anarchist prisoner Sean Swain sent for the presentation by comrades from Bloomington ABC on November 23rd 2016 at Gini building of the Athens Polytechnic School in Exarchia, Athens. The comrade's words were read out loud in English and Greek, and printouts of his text were shared during the discussion against prison society, organized by Themistokleous 58 Squat and Contra Info.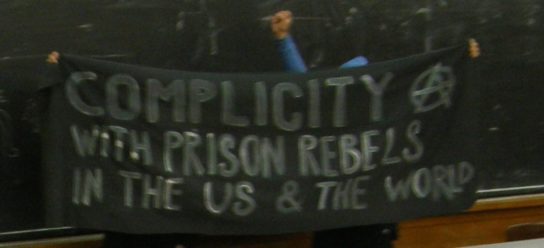 Greece and the Dignity of Rebellion
Before I give you the wrong impression that I'm placing undeserved blame on you, I think I should probably begin by revealing that I am a big fan of Greek anarchists. It seems like every single photographic image I see of rebels with bandanas covering their faces or donning black ski masks, every snapshot of police cars tipped onto their tops and blazing away, all come from Greece. In fact, I am such a fan that I consider it the biggest achievement of my life that I wrote a statement in support of Black December posted on 8 December last year, and 5 days later Greek rebels burned down a military building and quoted me. That is a benchmark in my life. I brag about it. I'm impossible to be around. I tell everyone who will listen to me that I wrote a statement and Greek anarchists quoted me after torching a military building.
It makes me want to write a thousand more statements in hopes that you will burn a thousand more buildings.
So, I say all that as context so what I say next won't hurt your feelings…
Greece brought about swivilization. It all started in Greece. You Greeks refined this hierarchy program, developed democracy as its most appealing form, fashioned great works of art to decorate it—mostly depicting naked people, which really attracted the attention of the rest of the world—and you exported the program on great fleets of sailing vessels.
Fastforward, we now have a global slavery system where we all drag stones up the side of some rich asshole's pyramid and the vast majority of us do not have the imagination to think that there could be anything better than democracy. We live in a world run by banksters and industrial sociopaths engaged in the mass destruction of everything living, including us.
We're fucked.
So, it seems more than appropriate to me that, in the birthplace of swivilization, we now witness its assassination. In Greece, out of all the geographic spaces of the world, we now find the most determined, the most energized, the most radical resistance to swivilization, to this program that distorts and murders us in installments.
It started in Greece. It's ending in Greece.
Please don't think I say this in an effort to flatter you. I'm terrible at flattery. I'm great at talking myself into trouble. So, this isn't flattery, but, I think, a fairly objective observation: The experiments in resistance that you have pushed forward, the strategies and tactics, the theories you have explored, all of this has become communal property for the rest of the world. Even now, as we just begin to find our own way, stumbling along, anarchists in the United States and other places in the world, divided as it is into artificial nation-states, we look to you. We see what you have done.
Not to make excuses for us in the United States, but part of our inaction, I think, is as a consequence of seeing what you have accomplished, how far you have pushed, and we think, whether correctly or otherwise, that such resistance isn't possible here. We are paralyzed, I think, by a sense that we cannot do what you have done, that somehow the situation or the "conditions" in the United States are different, that the surveillance is too pervasive, the potential sanctions too overwhelming, the social climate too pacified. And so, we sit in front of our computers and log on to watch the footage of Greeks wild-eyed and screaming, chasing the bewildered pigs who run for their lives, the hierarch order trembling at the knees, and we dream.
You must be wondering, Where are the Americans?
We're coming. I'm certain that we are.
Just this month, millions of Americans voted against the established order that has failed them for their lifetimes. By the millions, they cast ballots, ostensibly for the candidate who will "change" everything, who will "shake things up," because that candidate seemed to be talking for them, expressing their frustrations.
Giving them the benefit of the doubt that most of them are stupid rather than evil, they unknowingly voted in the most virulent fascist sociopath since Hitler and Mussolini, a fascist of the highest order whose lip service to the forgotten majority will yield to policies of war-mongering and corporate give-aways and "austerity" for the people. Those voters will soon have "buyer's remorse," when the fascist in whom they pinned their hopes betrays them thoroughly.
And where will the Americans turn? Will they turn back to the corporate parties that they rejected by the tens of millions, the same parties with the same failed ideas? Will they find a new hero with promises of glory and greatness, speaking much like the hero who drove the knife into their back?
No. They will turn to the example set elsewhere, the example of rejecting the imposed order, the images and ideas exported not on fleets of sea vessels but transmitted electronically via satellite, demonstrating the true dignity of rebellion.
The Americans are coming.
In just a matter of months, this docile and pacified population will be transformed by rage and fury, and will find voice in flames and blood. They will follow into a battle against this common enemy, going where many of you have already gone, and you will see faces covered in bandanas, concealed under ski masks, and you will see the police cars turned and burning, maybe even see the pillars of smoke rising as you look to the western horizon.
The Americans are coming. And when we do, we will be walking in the footprints left by Greek rebels who went before us.
On that day, the day of victory over our common enemy, we will all be Greek.
And we will all be free.
This is Anarchist Prisoner Sean Swain from Warren Correctional in Lebanon, Ohio, in the Fascist States of America. If you're listening, you ARE the resistance.