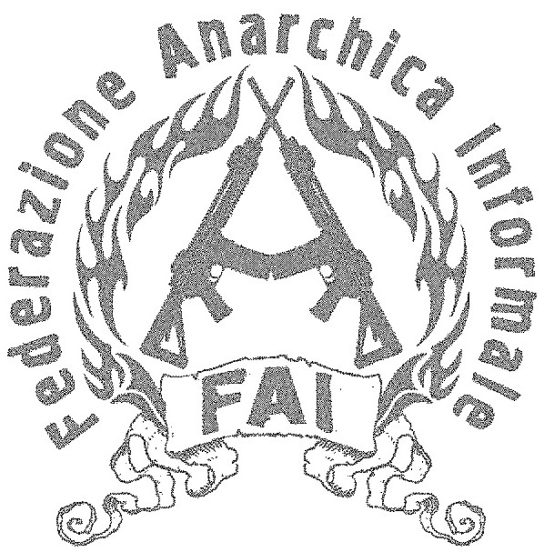 On September 6th 2016, Torino's section of the DIGOS antiterrorist unit unleashed an anti-anarchist operation under the name "Scripta Manent". House searches were conducted in various regions of Italy. Anarchists Alfredo Cospito and Nicola Gai, incarcerated since September 2012 for kneecapping Adinolfi (Olga Cell FAI/FRI), received a new arrest notification in prison. Additionally, six arrests were made on the outside (five in the context of this operation; one as outcome of a house search).
Operation Scripta Manent seeks to attribute to the accused a series of actions claimed by FAI (Informal Anarchist Federation) in Italy. Therefore, the comrades Marco, Sandrone, Anna, Danilo and Valentina, alongside Alfredo and Nicola, are likely to face charges of "subversive association with terrorist intent".
Below are their mailing addresses (that may change at any time):
Marco Bisesti
Alessandro Mercogliano
C.R. Rebibbia, Via Raffaele Majetti 70, 00156 Roma, Italia
Anna Beniamino
C.C. Via Aurelia nord km 79,500 n. snc 00053 Civitavecchia, Italia
Emiliano Danilo Cremonese
C.C. Via San Donato 2, 65129 Pescara, Italia
Valentina Speziale
C.C. Via Ettore Ianni 30, 66100 Chieti, Italia
Nicola and Alfredo are held in the AS2 wing of Ferrara prison:
Nicola Gai
Alfredo Cospito
C.C. Via dell'Arginone 327, 44122 Ferrara, Italia
Daniele, an editor of Croce Nera Anarchica, was captured that same day in the context of another arrest proceeding, after police found some batteries and an electrician's manual in his apartment. He is likely to face charges of "possession of materials for the manufacture of explosive devices".
The comrade can be contacted at:
Daniele Cortelli
C.C. Regina Coeli, Via della Lungara 29, 00165 Roma, Italia
Sources in Italian: Informa-azione & CNA; in English: ActForFreedomNow