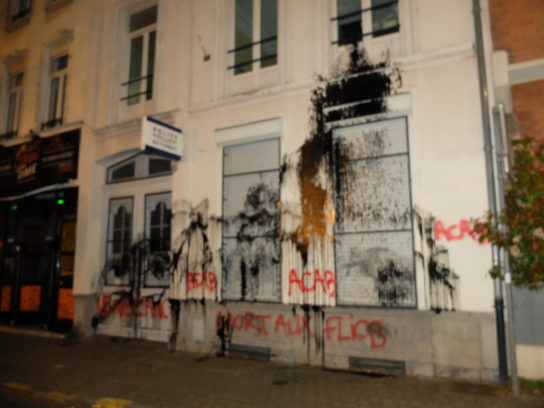 Today [April 21st], a new mobilisation against the El Khomri law took place in Lille. Following this demonstration, a small block, wanting to get together for the general meeting of struggle at L'Insoumise [Autonmous Space], were charged by BAC [Anti-Crime Brigade] cops. Several people successfully took refuge in the CNT premises located close by. Around a hundred cops then blocked the entrance of the Moulins neighbourhood, then entered by breaking the door of the CNT, ransacking the interior, and arbitrarily arrested two people, not forgetting to gas people of the neighbourhood.
We note and outline an initial response to the repression that we suffered and the police violence. The front of the police station in Lille was redecorated with used oil and a few explicit messages were written.
Support to the accused!
PS: and by the way, we still don't like the police.
Source: Lille Indymedia | in German