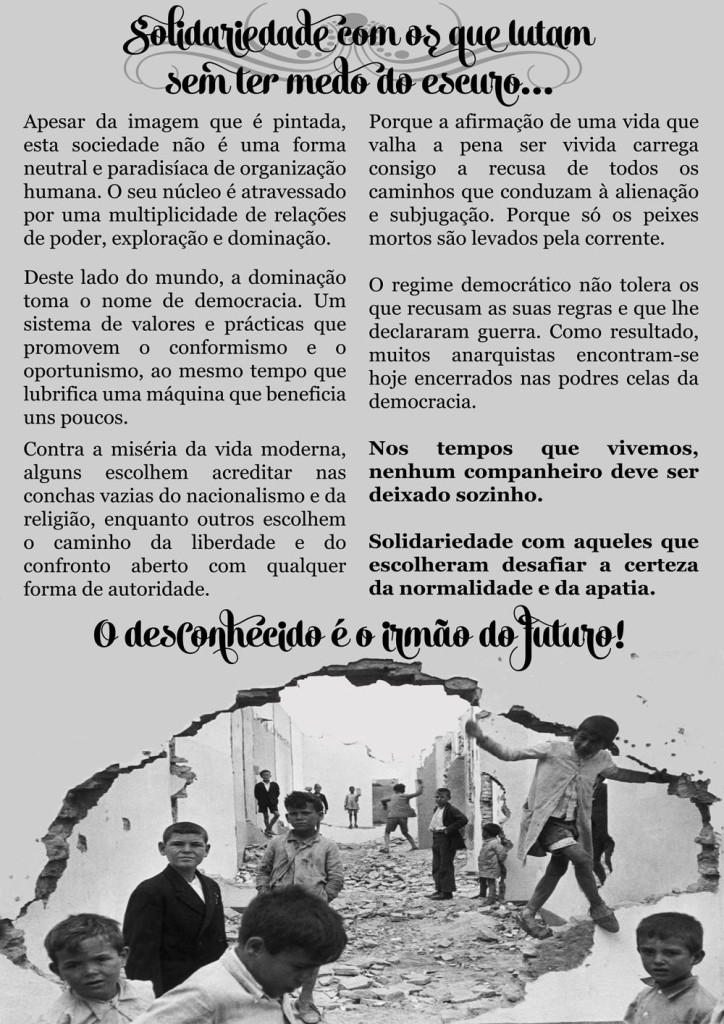 English translation received March 17th 2016:
SOLIDARITY WITH THE ONES THAT FIGHT WITHOUT BEING AFRAID OF DARKNESS…
Despite the image that is painted, this society is not a neutral and paradisaical form of human organization. Its core is crossed by a multiplicity of power relations, of exploitation and domination.
In this side of the world, domination goes by the name of democracy. A system of values and practices that promote conformism and opportunism while oils the machine that benefits a few.
Against the misery of modern life, some choose to believe in the empty shells of nationalism and religion, while others chose the path of freedom and the open confrontation with all forms of authority.
Because the affirmation of a life worth to be lived takes with it the denial of all the paths that lead to alienation and subjugation. Only the dead fishes go with the stream.
The democratic regime doesn't tolerate the ones that refuse its rules and that have declared war to it. As a result of it, lots of anarchists are nowadays imprisoned in the rotten cells of democracy.
In the times we live, no comrade should be left alone.
Solidarity with the ones that chose to defy the certainty of normality and apathy.
THE UNKNOWN IS THE BROTHER OF THE FUTURE!
here in printable size