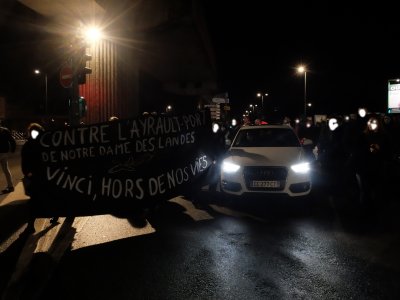 At this very moment in Lille a day/evening is being held of support to the ZAD of Notre Dame des Landes and the inhabitants that face trial this Wednesday 13th January. More than 100 people gathered in the General Assembly decided to show their support to Nantes protesters that are currently blocking Cheviré bridge.
We therefore left in procession upto the motorway where we unfurled a banner. This symbolic and spontaneous action also testifies our determination in organising ourselves, to prevent by all means the evictions on the ZAD.
Vinci clear off, resistance and sabotage!

Note from Contra Info: 400 tractors, 1,000 cyclists and 20,000 marchers turned up on the ring road on the periphery of Nantes to protest the Notre-Dame-Des-Landes (NDDL) proposed airport, and to support the ongoing ZAD occupation.