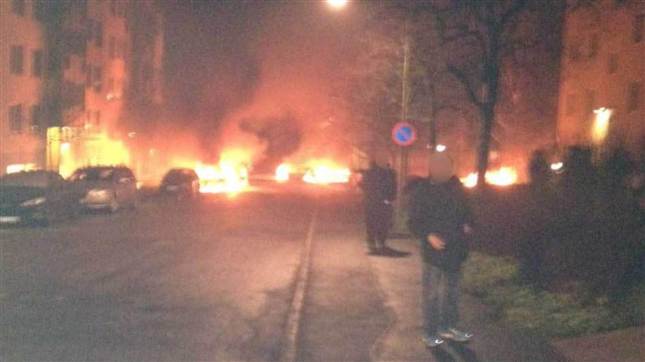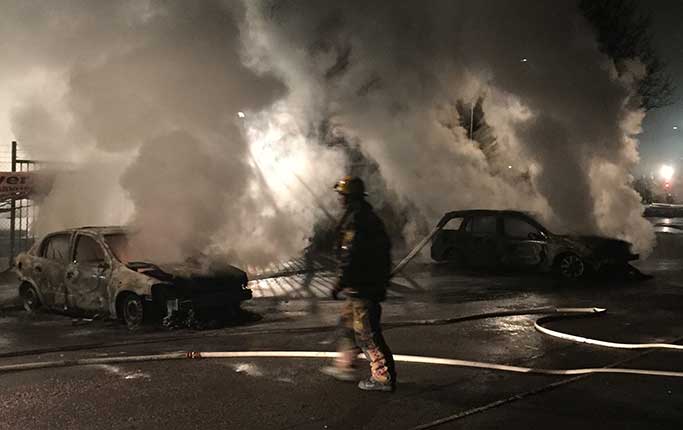 Saturday the 6th of December 2014, a group of individuals attacked the existing order. In Rågsved and Hagsätra, in the south of Stockholm, the dogs of the State were attacked with molotovs, stones and firecrackers. Following this event, the local cop station got smashed and several cars were burned. Of the present troublemakers ten were unfortunately arrested the same night and one only shortly thereafter.*
The cops are eagerly searching for the rest of the participants. The cops are also making their greatest efforts into understanding why someone planned such a deed; for planned it was, according to everybody who so far allowed themselves to make a statement about the occurrences.
Why shouldn't be so hard to understand, even for a bigoted constable. As soon as someone tries to take back their freedom, which belongs to every living being, the uniforms are building lines, ready to harm, lock up and even kill, just to keep us all enslaved.
If we take a look back at our normality, we see that direct violence from the State and its institutions is not the most freedom-killing one, but rather carries with it a catalytic potential for revolt. No, the worst of all, and what could make the most freedom-committed of individuals rot away in a concrete landscape, is the bureaucratically administrated power: the Job centre, the Tax office, the Social insurance authority, the Social security administration, the Migration authority, the Prison institution, the Juvenile office, the Bailiffs and all of their capitalist collaborators (career coaching firms, asylum entrepreneurs, debt collectors, "children entrepreneurs", etc.). Together with the morals enforced by society, telling us how to act and what our obligations are as slaves; religious and patriarchal structures in families and local communities… You should want to work, but no one wants to hire you. You get a job, but you're not paid any money. You are promised asylum, but in the end you still have to go underground. You are supposed to be eager to learn, but your intelligence is defamed. It should come as no surprise that, because of all this, a hatred towards the existent is formulated, and conscious steps are taken to attack it. Rather it is worrying that so many keep submitting to these social relations.
They who chose to act in conflict with society this Saturday did so with still unknown intentions. It is also not of great importance. The important thing is to state that they attacked power relations which keep us all in place, and that eleven people are currently locked up accused of these events.
So many of us carry these committed actions in our visions and on a small scale in our everyday lives, but so often let convenience keep us away from carrying them out… No matter their motives, they did not choose convenience…
We don't care whether they're guilty or not; eleven individuals are locked up accused of attacking authorities. The least we can do is show our solidarity as anti-authoritarian freedom fighters. And solidarity is best expressed through actions…
For burning institutions and bruised up cops!
* On the 9th of December the eleven arrested individuals were released but still suspected of arson, rioting, violence against officials among other things. Most of the accused were under 18.