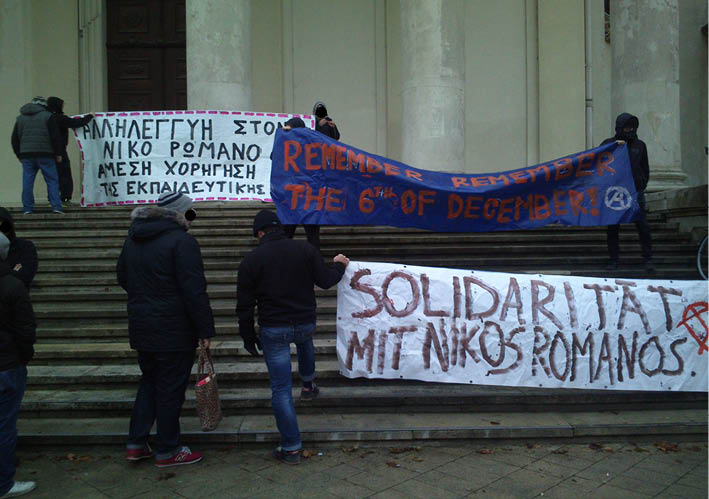 On December 6th, 2014, around 80 people participated in a solidarity gathering that took place in Vienna's Karlsplatz in remembrance of Alexandros Grigoropoulos and for Nikos Romanos and the other revolutionary prisoners in Greece.
From the call:
Nikos Romanos witnessed the murder of 15-year-old Alexis Grigoropoulos by a Greek police officer. The killing of the young school student on the 6th of December 2008 sparked mass demonstrations in the centre of Athens and in other major cities.
"My friend was not just murdered, but was executed in cold blood," said Romanos.
Six years later, the violence and perversion of the State continues. The Greek judiciary decided to imprison Nikos Romanos for a bank robbery that was intended to raise money for the movement.
On November 10th, 2014, Nikos decided to start a hunger strike with the aim of getting educational leave from prison in order to be able to study at university, like many other prisoners. With the hunger strike he puts his own body as a weapon against injustice. He is currently hospitalized and guarded by the servants of the State.
In parallel, the state prosecution hands over responsibility for the hunger strike to the physicians, suggesting they are obliged to administer medication and nutrition to the patient – this being a forced treatment and a violation of human dignity.
Currently, there are massive demonstrations in Greece, but also in other European countries. Today, December 6th, 2014, we want to demonstrate together for the release of Nikos Romanos.
Solidarity with the revolutionary prisoners in Greece and everywhere.
Freedom for Nikos Romanos!
Alexandros Grigoropoulos – Never forget, never forgive!
Viva l'Anarchia