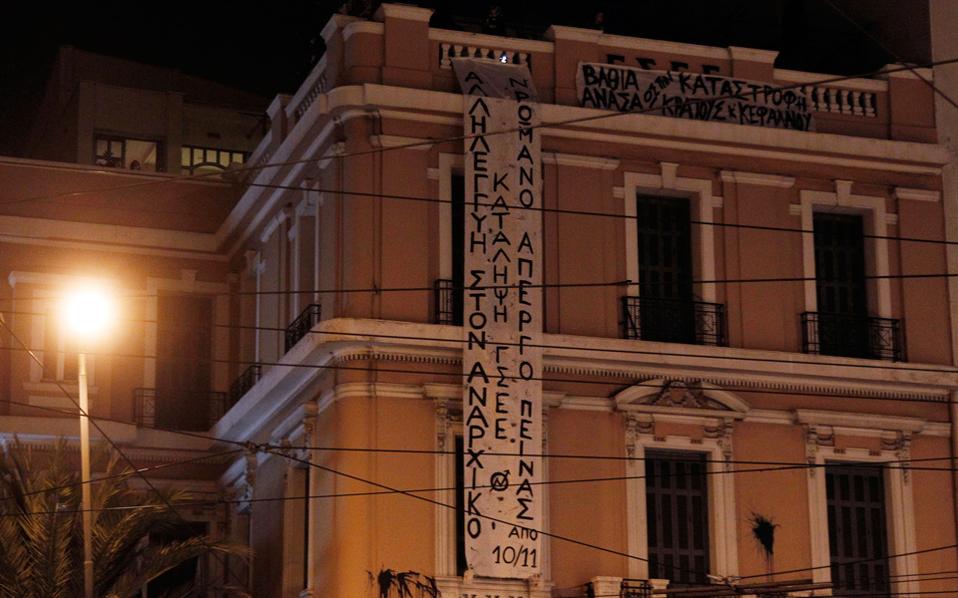 "They told us you'll conquer when you submit. We submitted and found ashes." [George Seferis]
As of December 4th, 2014, we have occupied the building of GSEE (Greece's General Confederation of Workers) in a display of solidarity with anarchist Nikos Romanos, who is on hunger strike since the 10th of November. Anarchist Nikos Romanos is a conscious enemy of the establishment. He has chosen to struggle factually against the State and the Capital inside the prison, as well as outside the walls.
Those who aim at exterminating him or forcing him to capitulate are:
– the government that, being loyal to the orders of the local and international Capital, imposes the implementation of memoranda, a policy of heavy austerity measures and devaluation of our workforce.
– the State that imposes a regime of a state of emergency as a way to extort social consensus and establish fear. Concentration camps for migrants, type C maximum security prisons, arrests and stigmatization of allegedly "HIV-positive" women, violent repression of demonstrations, tortures at the hands of police, the police occupation of Skouries in the Halkidiki peninsula, the targeting of university student mobilizations complete the puzzle of a Fortress-Greece.
Today, the peak of this repressive policy is the case of anarchist hunger striker Nikos Romanos. Through his extermination, the State pursues to neutralize revolutionary projectualities – self-organization, resistance, solidarity – that can trigger class and social counterattack, revolution.
The struggle of Nikos Romanos is not just about winning his educational furloughs from prison. It sets a barricade against type C maximum security prisons, new special conditions of detention, restriction of rights that were won by the blood of prison inmates. It sets a barricade against the murderous onslaught of the State and the Capital. For all of these reasons, we stand by our comrade and in solidarity with his struggle.
STRUGGLE UNTIL VICTORY, OR STRUGGLE UNTIL DEATH.