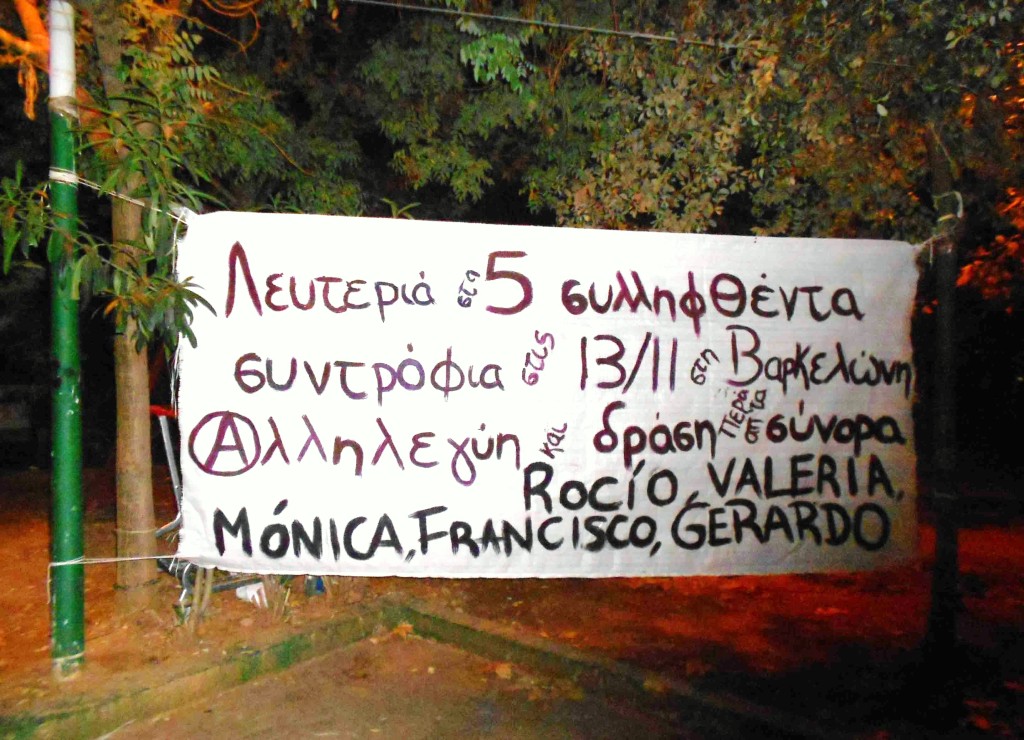 On November 18th some members of Contra Info hung a banner at Exarchia square in downtown Athens, in solidarity with the 5 comrades arrested in Barcelona on November 13th, accused under the anti-terror law for direct actions vindicated by the Insurrectional Commando Mateo Morral. The banner reads: "Freedom for the 5 comrades arrested on 13/11 in Barcelona: Rocío, Valeria, Mónica, Francisco, Gerardo – Solidarity and action beyond borders!"
The comrades were transferred from Barcelona to Madrid, where they were held for four more days in isolation. Finally on Sunday, November 17th, they were brought before the judge in Madrid.
All 5 anarchists are currently hostages of the Spanish State: Rocío Yune, Valeria Giacomoni and Gerardo Formoso were released, but they have pending charges and restrictive conditions, while their passports were taken away; Mónica Caballero and Francisco Solar were remanded to prison without bail.
From the trench of counter-information we send all our strength to the 5 prosecuted comrades, and we call for the multiplication of factual solidarity gestures. Faced with the police, interstate and media repression, we are not willing to make even a single step back.
Fire to the prisons! Fire to the borders!