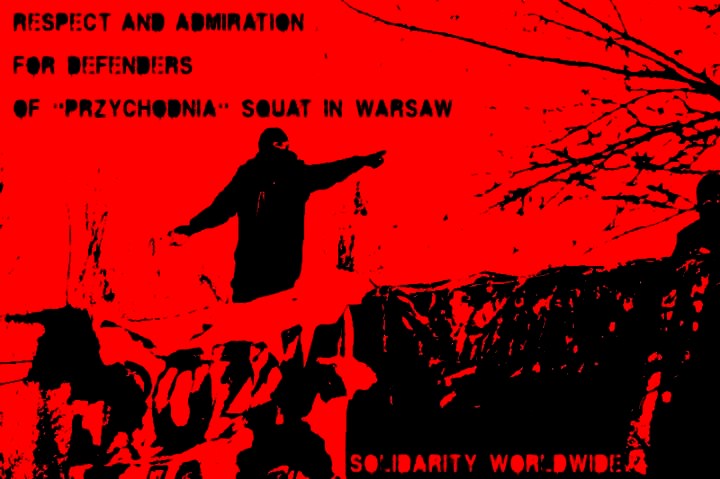 At around 3.45pm, participants of the 'Independence March' attacked Przychodnia social centre. It owes only to our own determination and calmness that we managed to resist the nationalist aggression. A few people were injured but nobody's life is in danger.
Neo-fascists were prepared to comment on the matter in the media, and immediately informed that it was people from the squat who attacked their march from the roof throwing stones in their direction. It is obvious that this was impossible because the end of Skorupki Street, where the building is located, is around 200 meters from Marszałkowska Street, along which nationalists were marching.
As we can see on a few videos [e.g. i, ii], a paramilitary formation called 'the Guard of the Independence March,' whose role was to protect the march, made it possible for the group of a few hundred people to pass, armed and ready to fight. Participants of the Independence March, with flares, bottles and stones in their hands, rushed into Przychodnia.
The nationalists set one car on fire and devastated another one, damaged the building trying to get inside, but fortunately we managed to resist the attack. It was possible only because we had kept watch on the roof (we had been threatened for some time already), and reacted fast to put out flares which fell inside the building.
We want to stress that, despite the fact that the police squads were stationed a few hundred meters from us, it took them 20 minutes to intervene. If we had listened to the police and ignored the danger, the squat would have been burnt down.
The Goebbelsian propaganda of the National Movement is trying to make it appear like an act of hooliganism – despite the fact that it was the officially appointed guard of the march who let the attackers leave the march and helped them evacuate afterwards. At the moment we are getting prepared for another raid; stay alert!
With antifascist salutations,
Przychodnia Collective.
Read also a joint communiqué by the Syrena and Przychodnia collectives, here.