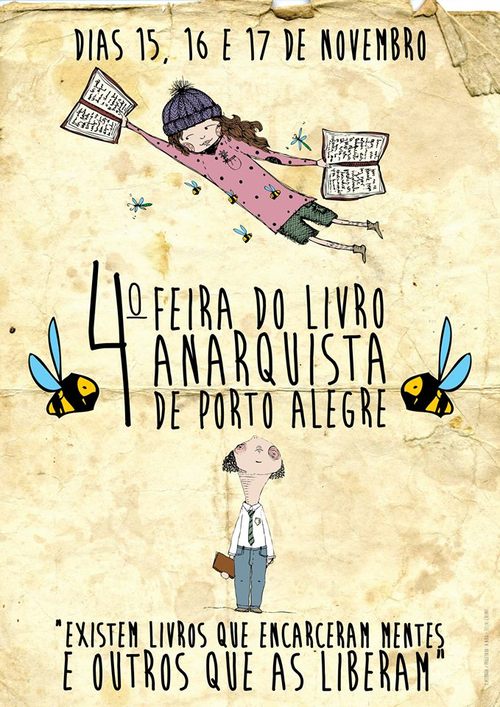 On the 15th, 16th and 17th of November 2013, the 4th Anarchist Bookfair of Porto Alegre will take place along with the 1st Anarchist Video Screening in the city. On this fourth occasion of the fair, we once again invite all interested persons and collectives to engage themselves in the event, bring their material and participate in the organization, with the aim of strengthening and spreading anarchist practices and ideas.
In times of storm in which revolt took to the streets, strong gusts of actions and ideas can disrupt normalcy. These spaces are increasingly important for the sharing of materials such as books, films and zines, and carrying out interventions, workshops and discussions. It's time to continue feeding the libertarian ideals, clearly defined by the values of freedom, solidarity, self-management, mutuality and autonomy.
We invite everyone to get to know anarchist ideas and the various different fronts of anarchist activity, in a struggle to overcome prejudices and forms of alienation that are disseminated by means of mass distraction.
To propose activities for the bookfair, or to submit your material for the film exhibition, please contact us via email, flapoa(at)libertar.se, or through we.riseup.net (group 4flapoa). As a practical matter, those interested to send their proposals should mail us until the 20th of October 2013.
Check this site for updates in Portuguese (the exact location of the 4th Anarchist Bookfair in Porto Alegre will be confirmed very soon).
For our lives! Health and anarchy!