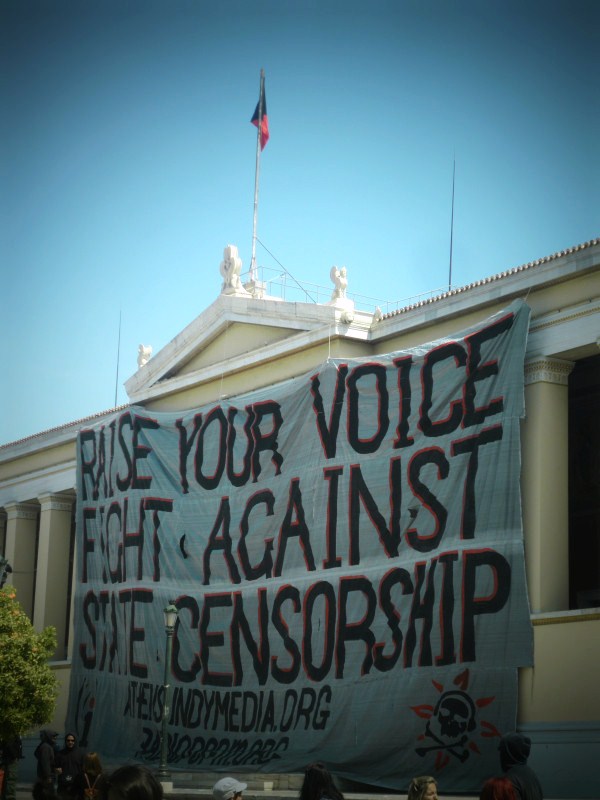 In the morning of April 24th, as part of solidarity actions with counter-information media that were recently gagged by the Greek State with the aid of the rector of the National Technical University of Athens, Simos Simopoulos, a large banner was placed at Propylaea on Panepistimiou street in downtown Athens, that reads: "Raise your voice – Fight against state censorship – Athens.indymedia.org & Radio98fm.org" while a red and black flag was raised on the building, replacing their Greek national flag.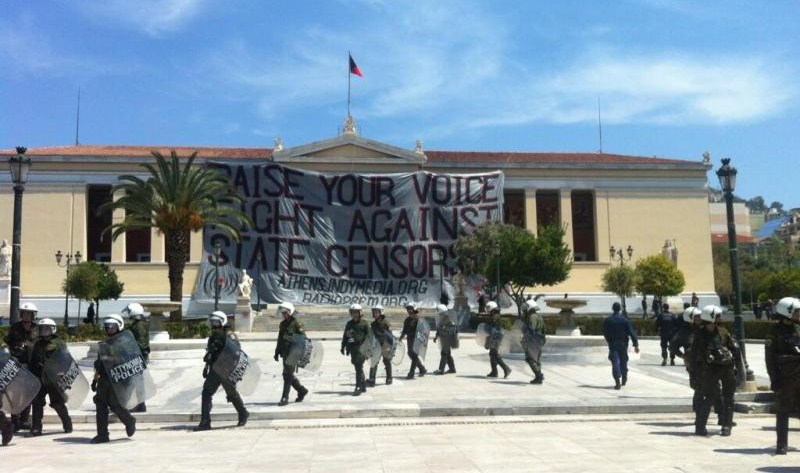 A couple of hours later MAT anti-riot squadrons and motorcycle cops encircled the building. More than 30 comrades who participated in the solidarity intervention were detained and transferred to the police headquarters, on Alexandras avenue.
There is a call for solidarity gathering outside the Athens police headquarters.
Update, 15.30pm: A total of 69 detainees are being held in the Athens police headquarters (including two tourists who were caught earlier by the police while they were passing by the site of the anarchist intervention). Almost ten detainees are currently held in detention cells while the rest are kept on the 7th floor. So, the detainees are not all together, and they have not been able to talk to lawyers as of yet. Approximately 200 people in solidarity are gathered outside the police headquarters, on Alexandras avenue.
Update, 21pm: Groups of detainees are gradually being released from the police headquarters, and welcomed by solidarians that remain outside. However, six of those caught in Propylaea have been separated from the other detained people that await their release. Cops continue to run identification checks on the remaining group, but these 6 comrades are still missing. The remaining group of detainees is writing a collective communiqué stating that no one will go till all can go, in solidarity with the 6 comrades who may face charges.
Update, 22.30pm: It was reported that 63 persons were released from the Athens police headquarters. Nevertheless, the 6 comrades will be kept in detention cells all night; they face misdemeanor charges (e.g. they are accused of insulting the national emblem), and will stand before public prosecutor tomorrow morning, 25/4.
Update from the courts (25/4): The 6 comrades were released; the hearing was postponed to the 8th of May.

Athens IMC and 98FM radio station call for solidarity demonstration:
Thursday, April 25th, 18pm, Monastiraki, Athens