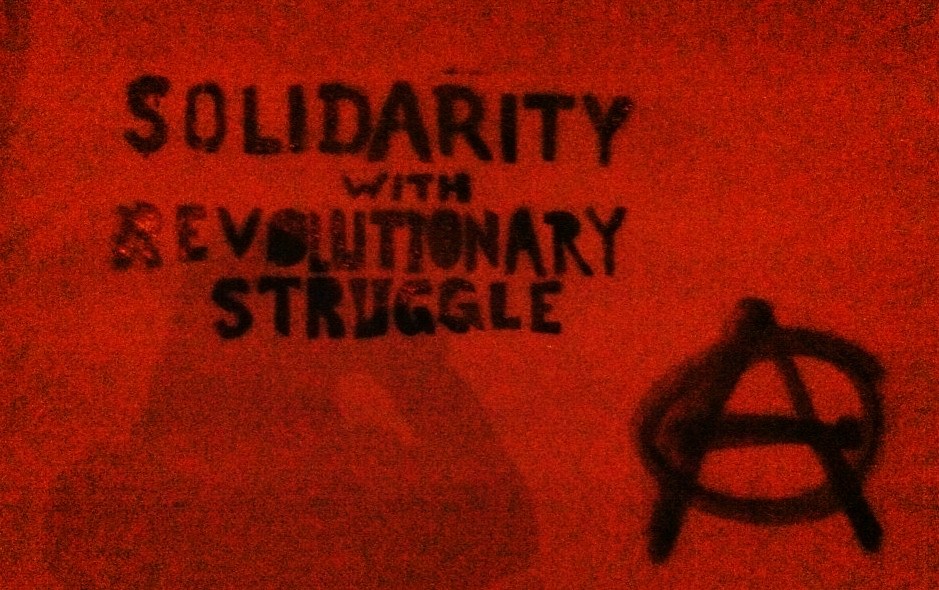 Latest information on the court proceeding that the International Red Aid has disseminated:
The prosecutor proposed the sentencing of the three admitted members of the Revolutionary Struggle, Pola Roupa, Nikos Maziotis and Kostas Gournas, even though no evidence was presented in court that would substantiate their involvement in the specific actions they're charged with. (We remind you that Pola Roupa and Nikos Maziotis are currently at large.) In addition and without any conclusive evidence, the prosecutor suggested the conviction of Sarantos Nikitopoulos, Vaggelis Stathopoulos, Christoforos Kortesis and Kostas Katsenos, who deny their participation in the organization. Finally, the prosecutor admitted there was never evidence against Marie Beraha (wife of Kostas Gournas) and said that she should be acquitted of all charges.
Call for solidarity gathering at the special court of Koridallos prisons:
The trial reaches end on Wednesday, April 3rd, at 9am, when the court will issue a judgment on the Revolutionary Struggle case. The judges will announce their final decisions for Nikos Maziotis, Pola Roupa and Kostas Gournas, who have claimed political responsibility for their participation in the organization, and for Vaggelis Stathopoulos, Sarantos Nikitopoulos, Christoforos Kortesis and Kostas Katsenos, the other anarchists accused in the case, as well as Marie Beracha (life companion of Kostas Gournas), who is also accused in the same case.
Let's all attend this trial session and make our solidarity a fist against the State.
The passion for freedom is stronger than all prisons!
Assembly for the Revolutionary Struggle case
Contact mail: RScase[at]espiv[dot]net