EVENT
with the lawyers of Sonja (79-years-old, imprisoned) and Christian (70-years-old, free under restrictive terms), as well as international and special guests, on September 20th, at 19.00pm (local time) in Café Exzess, on Leipziger Straße 91 in Frankfurt am Main
GATHERING
on the first Trial Day, September 21st, from 8.00am (local time) at the district court (Landgericht), on Seilerstraße/Konrad-Adenauer-Straße in Frankfurt am Main
COURT PROCEEDINGS
starting from September 21st, every Tuesday and Friday* from 9am to 13pm (local time) at the district court (Landgericht) of Frankfurt am Main, Building E (Gebäude E)
* In September, a trial session will take place only on the 21st; check all upcoming dates here.
verdammtlangquer.org
kontakt[aet]verdammtlangquer.org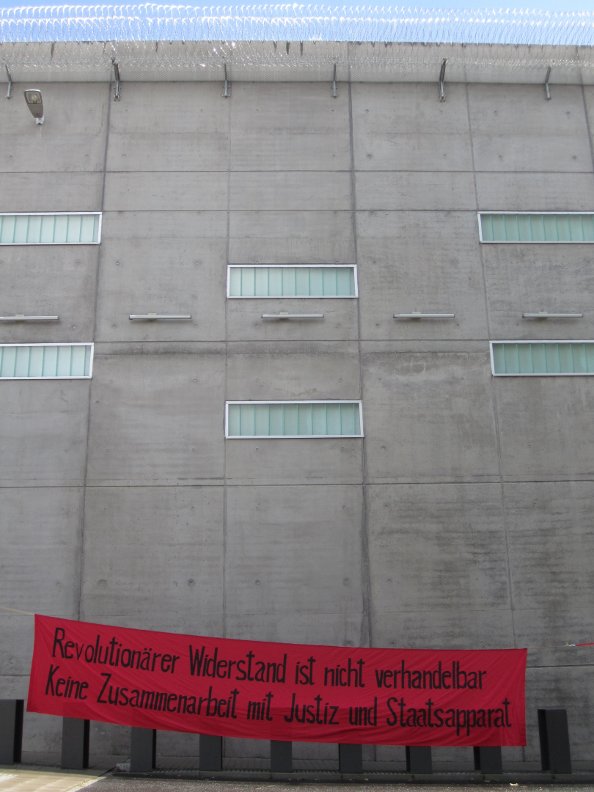 A solidarity gathering took place in Frankfurt on July 7th, 2012, outside Preungesheim prison, where Sonja is still incarcerated. The banner reads: "Revolutionary resistance is nonnegotiable – No collaboration with Justice and the state apparatus".